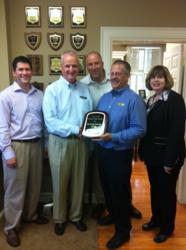 Thank you Steel King for this honor
Stevens Point, WI (PRWEB) May 31, 2012
Steel King Industries Inc., the industry's leader in providing quality material handling solutions, announces Marketing Services Group of Bowling Green, KY, as its 2011 Steel King Strategic Business Partner.
Marketing Services Group is a sales rep agency that specializes in sales to large national industrial distributors that sell product through a printed catalog, an online website, as well as local branch locations. Firms like Grainger, Fastenal, McMaster-Carr and MSC.
"Marketing Services Group has been a partner to Steel King Industries since 1990," says Steel King's President Jay Anderson. "It is a unique relationship for Steel King, as MSG represents us in the focused market channel of industrial catalog sales. Starting with one product in one catalog, through our combined efforts we now have multiple product lines sold in more than a half dozen catalogs. This market is very different than Steel King's other market channels, with different customer needs in marketing, packaging, documents, transportation, electronic data exchange, and challenging performance metrics. Marketing Services Group assists us with order processing, cooperative marketing efforts, identification of opportunities, and daily service and quoting to hundreds of sales branches. We could not do it without them. In recognition of their importance to Steel King, we have designated Marketing Services Group Steel King's top Strategic Business Partner for 2011. We thank all of the personnel at Marketing Services Group for all of their help in 2011 and throughout all the years of our partnership."
Kevin Thomas, President and Founder of Marketing Services Group, commented, "I would like to say that we are honored to be selected as Steel King's Strategic Business Partner. Steel King and MSG have been partners for over 20 years, enabling both of our firms to grow substantially. I know that this is an award that is not given out lightly, which makes it all the more special to us. Everyone on our team works hard to support the needs of all the suppliers we represent, but the partnership with Steel King is considered one of our core partnerships. As a supplier, Steel King does a great job of listening to their customers, making quality product here in the USA and delivering it on time when the customer needs it. Key qualities that we look for in the firms we represent. Thank you Steel King for this honor."
Since 1970, Steel King Industries has manufactured a full‐line of material handling products, including selective pallet racks, dynamic flow storage systems, cantilever racks, portable racks, and custom shipping racks, along with industrial steel containers and guard railing. Innovation, customization and design strength has earned Steel King the reputation as a leader in the material handling marketplace. For more information, call Steel King at (800) 826‐0203.
###