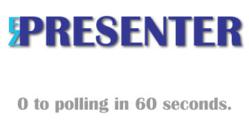 EZ-PRESENTER is a "just-in-time" audience response software.
Plymouth Meeting, PA (PRWEB) May 02, 2012
EZ-PRESENTER is a "just-in-time" audience response software designed for users who don't create the presentations, but are tasked to operate them. When EZ-PRESENTER is installed and activated, user launches it and imports a PPTX file. With zero changes to the presentation or individual slides, the entire presentation becomes interactive.
The controls comprise of a single button to press to start polling and Spacebar to navigate through the slide show. Other controls are available, but optional. Its intuitive interface makes EZ-PRESENTER a perfect tool for audio visual departments or production companies as it gives a speaker the freedom to create the event content and make last-minute changes before going on stage.
The presentation comes to life when polling is initiated, as an animated polling slide is shown, the votes are counted and countdown clock is ticking away. Audience, as well as the presenter can engage in a conversation once the results (and optional correct answer) are shown.
A visual report in Word® format is instantly available on the user's desktop after the presentation ends and is complimented by a data-driven CSV file in case more analysis is needed.
Company
Since 1970, Meridia Audience Response has been providing innovative technology solutions for the meeting, training and entertainment industries. Combining the experience with the latest in web technology and radio frequency hardware, Meridia is now enabling audiences around the world to cast their vote and be part of the meeting, whether it involves serious training or fun, interactive games.