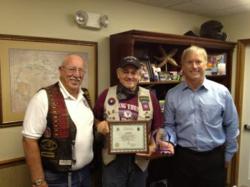 Port Orange, FL (PRWEB) May 01, 2012
PORT ORANGE – Two members of the Rolling Thunder Motorcycle Group, Florida Chapter 8, recently acknowledged the Rue & Ziffra law firm for its sponsorship of a recent benefit for the St. Jude's Children's Research Hospital.
Bikers and veterans John Trask and Sherman Burres visited the Port Orange-based firm Thursday [April 26] and presented an award of appreciation and certificate to David Sweat, a firm partner and avid motorcyclist who regularly participates in benefit rides.
"We feel fortunate to have worked alongside so many dedicated volunteers in helping put together a fun event for such a worthy cause," Sweat said.
The April 14 event – dubbed "Bikes, Blue and Bogeys" – included a police-escorted poker run through Volusia and Flagler counties, a barbecue lunch with live entertainment and a golf tournament, Sweat said.
The Ormond Beach-based motorcycle group, a non-profit veteran-focused organization, works to educate the public about American prisoners of war and those missing in action who were left behind in all wars. The group presents various fundraising events throughout the year.
About Rue & Ziffra: Founded by John D. Rue and Allan L. Ziffra, the personal-injury law firm of Rue & Ziffra has served the Central Florida community for more than 25 years. The firm's commitment to its profession and its clients has earned it a reputation as one of the top personal-injury law firms in Central Florida. Known for handling everything from automobile and motorcycle accidents to medical malpractice, wrongful death, and social security and disability cases, Rue & Ziffra has recovered millions of dollars for injured clients and their families. With a staff of nine attorneys, the firm maintains offices in Port Orange, DeLand and Palm Coast. For more information, visit http://www.rueziffra.com.
For more information about this release, please contact:
Allan L. Ziffra, President, Rue & Ziffra P.A., 386-788-7700 or aziffra(at)rueziffra(dot)com
Jessica Eckelbarger, Marketing Director, Rue & Ziffra, 386-788-7700 or jessicae(at)rueziffra(dot)com
Charlene Hager-Van Dyke, Larry Vershel Communications, 386-532-8862, 407-644-4142 or chagervandyke(at)yahoo(dot)com