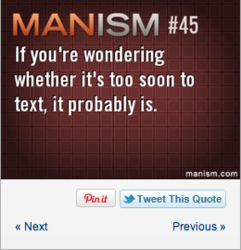 My goal was to create a single alternative to the hundreds of men's interest forums that already exist out there
Los Angeles, CA (PRWEB) May 16, 2012
The world's first men's lifestyle Q&A community, Manism.com, has recently launched, aiming to provide top quality advice for men across the country. Members of the community drive discussion on everything from dating strategies to workout regimes to style tips, with many suggestions being supplied by an ever-expanding network of professionals in these domains.
As circulation of men's lifestyle publications continues to decline, more men are turning to the Web for information and on topics they find of interest. While some websites have done a decent job of bridging the gap, the demands of advertisers combined with an inability to truly engage their readership have led to sub par solutions. Manism.com intends to set this right by offering a free platform that allows anyone to ask a question, leaving it up to a community of motivated readers to decide which ones hold the most value.
In the style of popular Q&A sites of the moment, Manism.com employs mechanisms such as voting, reputation and self-moderation to filter out the bad content and retain the good. "My goal was to create a single alternative to the hundreds of men's interest forums that already exist out there, with a much lower noise-to-signal ratio," says Zak Gottlieb, Founder of Manism.com. "There's so much bad advice for men floating around on the Internet these days that there's an urgent need for better ways to curate it all."
Manism.com offers its members the ability to contribute questions and answers on subjects ranging from success with women to career advancement; muscle building techniques to male-oriented product recommendations. The content is then easily surfaced through browsable tags and categories. Authority is conferred via a simple system of reputation and badges, with those who have risen within the community accumulating rights to oversee the activity and influence its direction.
While society and old media continue attempting to hash out a workable definition of 'the modern man,' Manism.com provides a stage for guys of all ages to decide the question for themselves. "As the Web begins to mature," says Mr. Gottlieb, "social media is being used to collect and organize the vast amounts of untapped knowledge that exist on various subjects. In the case of Manism.com, such knowledge is helping men to gain a better handle on the concept of twenty-first century masculinity."
About Manism.com
Manism.com is a free website dispensing advice for men of all ages, covering topics from relationship problems to health issues, sports queries to career concerns, fitness questions to "how to get the girl." The intention is to make the site into the best possible learning resource for guys who are interested in personal development.