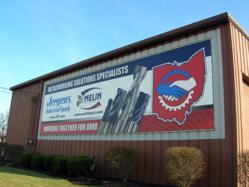 In 2011, Jergens Industrial Supply recorded record growth with Affiliated Distributors (AD) suppliers of over 300%!
Cleveland, Ohio (PRWEB) May 02, 2012
Jergens Industrial Supply (JIS) has received two awards recently in recognition of business success and growth. In January, JIS was recognized by supplier Melin Tool as the first recipient of their new Distributor of the Year award. JIS was recognized again in March by Affiliated Distributors as the distributor within the organization who achieved the greatest overall growth in 2011.
Melin Tool 2011 Distributor of the Year
For many years, Melin Tool and JIS have enjoyed a mutually-beneficial partnership. As one of JIS's valued vendor partners and fellow Cleveland-area manufacturers, Melin Tool's product line of premium quality carbide and cobalt high speed steel end mills, drills, countersinks, and other high performance and specialty cutting tools is one of the primary sources for product that JIS distributes throughout area customers' manufacturing facilities.
During 2011, the JIS sales team worked together in pursuit of aggressive sales and growth goals, proactively promoting Melin Tool's new and existing products, services, and capabilities. As a result, JIS received the 2011 Distributor of the Year by the company, who recognized JIS as the first recipient of this award. Melin Tool determined that JIS was the distributor who did the most to enhance the market position of their company within our customer base, and who grew our mutual businesses significantly. In conjunction with receiving this award, a JIS-Melin Tool billboard banner hung outside Jergens headquarters during the month of February.
Affiliated Distributors 2011 Greatest Overall Growth
JIS is a member of Affiliated Distributors (AD) and was recently recognized as the 2011 Greatest Overall Growth award winner. AD is a community of independent distributors and manufacturers serving industrial MRO, industrial OEM, commercial construction, residential construction, utilities, retail, and government end markets. As part of AD, JIS can leverage the group's collective economics of scale to make collective investments in people, programs, and technology through a myriad of programs and services offered including negotiations and administration, logistics, product promotion support, and miscellaneous sales support programs just to name a few.
In 2011, JIS recorded record growth with AD suppliers of over 300%! JIS works with a number of AD suppliers which helped the company with this exciting achievement, among them being AutoCrib, Brady, Destaco, Lenox, ORS-Nasco, Precision Brand, PIP Gloves, Precision/Dormer, Seco, Standard Abrasives, and many more. JIS is proud to be recognized by this industry-leading group, and will continue to work to excel to greater heights in 2012 and beyond.
About Jergens Industrial Supply
Jergens Industrial Supply is Ohio's largest, most technical distributor of metalworking products, with quick delivery and a 1,000-square-foot showroom representing over 300 of the top manufacturers in the United States. It is a division of Jergens, Inc., one of the world's largest manufacturers of standard tooling components, vices, and other workholding equipment. For more information, please contact Jergens Industrial Supply at Jergens Way, 15700 S. Waterloo Road, Cleveland, OH 44110-3898. Phone: 216-486-2100 or toll free: 888-486-2100; Fax: 216-486-5014. On the Web: http://www.jis.com. E-mail: tooling(at)jis(dot)com.