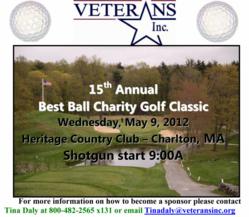 East Hartford, CT. (PRWEB) May 03, 2012
ForeSite Technologies, an East Hartford based IT support and website design and development firm has announced its sponsorship of Veterans Inc.'s 15th Annual Best Ball Charity Golf Classic. The event will take place on Wednesday May, 9 2012 at the Heritage Country Club in Charlton, MA.
"It is always an honor to work with an organization that does so much good for our military veterans," President of ForeSite Technologies, Michael Giuffrida said. "Supporting this cause is the least we could do for those who have done so much for our country."
Since 1991, Veterans Inc. has been providing veterans and their families with services including transitioning veterans out of homelessness, job training and employment, health and wellness, and supportive services.
Since 1997, ForeSite has been designing and developing standout Web Sites and providing insightful IT support to its clients. Serving clients in the Hartford, CT and Worcester, MA areas, ForeSite offers practical, tailored and creative solutions that fit a wide range of business needs. In 2011 ForeSite was named one of Inc. 5000's fastest growing, privately held companies. For further information, call 1-866-464-7483 or visit ForeSiteTech.com