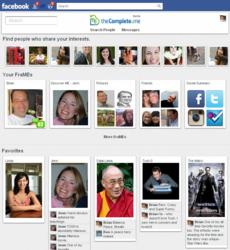 "We are thrilled that Braughm Ricke has joined theComplete.me team, as interim CFO, to help us plan for the rapid growth period ahead of us," said Brian Bowman, Co-founder and CEO theComplete.me.
San Francisco, CA (PRWEB) May 01, 2012
Social dating network, theComplete.me™ (http://www.theComplete.me), announced today that Braughm Ricke has joined the organization as interim chief financial officer. As an experienced financial executive with a focus on seed and early-stage startups, Ricke will provide theComplete.me with the guidance and financial systems needed to take the organization through the startup period and A-round fundraising process.
Ricke is the Founder of Aduro Advisors and was a founding member and CFO at True Ventures, where he provided financial and operational support to True Venture's portfolio companies. Prior to True Ventures, Ricke was Controller at 5am Ventures and Controller at Sofinnova Ventures.
"We are thrilled that Braughm has joined theComplete.me team to help us plan for the rapid growth period ahead of us," said Brian Bowman, Co-founder and CEO theComplete.me. "Braughm will help us implement the right amount of financial process, reporting and structure as we scale our business."
"I am extremely excited to be working with an exceptional and experienced team, tackling a market that is ripe for innovation," said Braughm Ricke. " I look forward to helping theComplete.me grow to a business of significant scale."
theComplete.me public relations contact: trish AT thecomplete.me
Watch theComplete.me video at http://www.youtube.com/watch?v=ez_6_GIPh5U
About Aduro Advisors
Aduro Advisors is a strategic financial services company, founded by Braughm Ricke, focused on assisting Venture Funds and companies in the seed and early stage community. Products include Fund administration and formation, fundraising advice, strategic financial modeling, basic accounting services, and online accounting and financial tools. The company's mission is to increase the probability of success by building a strong financial foundation for Funds and companies at the earliest phases of development. Through innovation, deep industry relationships, and domain expertise, Aduro will be the premier provider of strategic financial services.
About theComplete.me
theComplete.me is the first social dating network. The site helps singles easily share who they are using their interests, experiences and mutual friends from their social networks, with complete control over who sees what and when. Founded by Brian Bowman (CEO), former VP Product Match.com & VP Community Yahoo!, and Shashikant Joshi (CTO), former Founder/CTO Perfode, theComplete.me startup team and Board of Advisors include Fran Maier, Co-founder of Match.com, Trish McDermott, former VP Public Relations Match.com, and other former Match.com and Internet executives. Early investors include: Intel Capital; PlentyOfFish; CrunchFund; Russ Siegleman; Ben T. Smith IV; Social Starts, LLC; Spark Unlimited, Inc.; Parker Coddington; Kevin Henrikson; Ali Jahangiri; William Lohse; and Konstantin Othmer.
Connect with theComplete.me on http://www.theComplete.me, follow on Twitter @thecompleteme, visit http://www.blog.theComplete.me