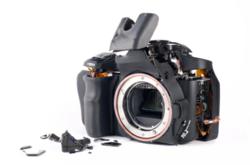 Sergio Pia of Cheaper Gadget Insurance said that they were "Excited to be working with Camerainsurance.co.uk"
(PRWEB UK) 10 May 2012
http://www.camerainsurance.co.uk have added a new camera insurance provider, Cheaper Gadget Insurance, to their website. They hope that with a bigger selection of insurers to choose from, they will be able to further cater for everyones needs.
With the advantages of digital cameras and equipment, and the fact that most handheld gadgets such as mobile phones now have cameras built-in, the numbers of cameras and gadgets are steadily increasing.
But where do these gadgets fall under insurance? This is easier to consider when the people who own and use them are split into two groups, amateur and professional photographers. For the purposes of insurance, generally a professional photographer is someone who earns more than 50% of their income from photography.
Sergio Pia of Cheaper Gadget Insurance said that they were "Excited to be working with Camerainsurance.co.uk", and hoped that their cover "Starting from as little as £44.99 for 5 gadgets, up to £500 cover in total per annum, would provide a high-level and fully comprehensive cover to our customers."
According to Camerainsurance.co.uk, 44% of amatuer photgraphers visiting their website search for equipment valued up to £1500, and 32% for equipment valued between £1500 and £3000.
Some amateur photographers may have similar valued items insured under their home insurance. This may work on some occasions, but some home insurance policies can have a high excess, and if even a minor claim is made the no claims discount can be lost, leading to a dramatic increase in premiums. Also, some home insurance policies will actually have limitations that the average person is unlikely to be aware of. Items may only be covered whilst at the home address, or not covered for accidental damage, for example. This is fine if the camera is lost during a burglary or fire, but no help at all if it is dropped or stolen whilst on holiday abroad.
With 47% of proffessional photographers searching for equipment valued over £5,000, home insurance is extremely unlikely to be anywhere near comprehensive enough. Generally, home insurance will not cover professional or business use of any equipment, or have a restriction on the value that can be covered outside of the house. As well as often owning valuable amounts of equipment, professionals usually have to consider the added protection of public liability insurance to protect themselves and their customers against third party damages.
Specialist websites such as http://www.camerainsurance.co.uk are able to offer a selection of camera specific insurance policies. These can be perfect for both the amateur and the professional photographer, and a range of options are also available to provide a comprehensive, tailored policy.
A tailored camera insurance policy can be advantageous, as it is specific to the photographic items and separate to any other existing policies. For example, if a claim is made on a camera insurance policy, any payment made will not result in a loss of home or contents insurance no-claims bonus, which as mentioned above can adversely affect premiums for several years after renewal. Another advantage is that the companies offering these policies will have more experience with photographic equipment, so if they do need to provide assistance or a replacement item as part of a claim, they will be in a much better position to do so than any generic company would. Some camera or gadget insurance policies also have zero excess, whereas this is quite unusual with home insurance.
http://www.camerainsurance.co.uk offers a range of cover, from simple gadget policies, designed for low value cameras, camcorders or mobile phones, through to professional insurance policies for thousands of pounds worth of specified equipment and public liability cover.
For more information, see http://www.camerainsurance.co.uk.