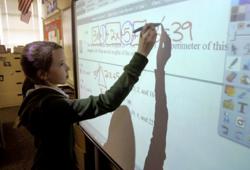 "I learn better when there are pictures and movies to go with what we are talking about," stated Amanda G., Asheville Academy student
Asheville, NC (PRWEB) May 02, 2012
Asheville Academy for Girls, a therapeutic boarding school for troubled teens ages 10 – 14, has reinforced its dedication to a technologically savvy and content rigorous classroom with a its first Promethean Activboard, an interactive whiteboard teaching tool.
"Historically, academics have come second at therapeutic boarding schools," commented Executive Director Bryan Tomes. "At Asheville Academy therapeutic boarding school for girls we believe that academics can be as sophisticated as a traditional school without sacrificing therapeutic focus."
Asheville Academy has introduced the use of the Activboard interactive whiteboard to improve the engagement of pupils through the use of high quality still and moving visuals, sound and interaction and increases the dialogue between teachers and pupils. Recent research by Becta has proved that prolonged use of interactive whiteboards has "positive effects on the attention, attitude and motivation of all pupils, producing a co-operative 'community of learning' ethos in the class."
"In my experience, interactive white boards increase student engagement and attention," continued Mr. Tomes, "And teachers are given a broader palette on which to conduct class and share information."
Along with the Activboard, the classrooms for Asheville Academy's boarding school for troubled girls are also are utilizing ActiVote, a hand-held wireless Learner Response System with a simple 6-button, A-to-F interface. Teachers are able to poll students at any time during class to assess progress and, based on responses, customize lessons to create a more personalized learning environment that is tailored to individual student needs.
"I like how the teacher can pull up videos or pictures from the internet when we are talking about science," commented Amanda G, Asheville Student, "I learn better when there are pictures and movies to go with what we are talking about."
Fellow student Melissa stated, "The ActiVote joysticks are so neat! We are able to play games to study for tests, like jeopardy, and have fun and laugh while doing it. I get so stressed out about tests and now I am excited to show what I know!"
Asheville Academy therapeutic boarding school for girls ages 10 - 14 works with a broad range of young girls who are emotionally, behaviorally, and learning challenged.
"It is imperative that our girls leave with the academic tools to compete in a challenging, tech-heavy academic setting," continued Nik Holton, Chair of the Math and Science Department, "For our girls, only home surpasses school in importance for defining self-confidence and motivation. Our girls find success in part because they can return to a traditional academic environment with the tools to succeed"
For information about the Academic program at Asheville Academy, or more general information on this boarding school for troubled teens, please contact Bryan Tomes, Executive Director at (800) 264–8709.
Asheville Academy is a leading therapeutic boarding school for troubled girls 10 - 14 years old. Founded by professionals with over 75 years experience in designing and operating therapeutic placements for adolescent girls, Asheville Academy is working to become the international leader in emotional, behavioral, and academic interventions for young ladies. Asheville Academy is a member of the North Carolina Division of Non-Public Education, Small Boarding School Association, and a candidate with CARF International. For additional information please visit http://www.AshevilleAcademy.com or call (800) 264-8709.