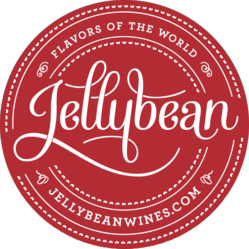 "Jellybean Wines are styled after their namesake: bright, fruity, vibrant and bursting with easy-to-love flavors," says Mike Kenton, CEO, OFFbeat Brands.
Petaluma, CA (PRWEB) May 01, 2012
OFFbeat Brands has launched Jellybean Wines, a new line of internationally sourced varietal wines produced in an approachable, fruit-forward style designed to appeal to the "sweet spot" of Millennial and Generation X consumers. Featuring bold, colorful and evocative packaging, Jellybean Wines are the first products to be launched by OFFbeat Brands, the new Petaluma, California-based beverage company formed by wine industry executive and entrepreneur Mike Kenton earlier this year. Jellybean's initial products include a Chardonnay, Cabernet Sauvignon and Merlot from California, a Moscato and Moscato Rosé from Italy and a Red Wine Blend from Spain. A Sparkling wine from Spain will be released in summer 2012. The wines are line priced at $12.99 (SRP).
"Jellybean Wines are styled after their namesake: bright, fruity, vibrant and bursting with easy-to-love flavors," says Mike Kenton, founder and CEO of OFFbeat Brands, whose motto is Drink Different. "The wines have just a touch of sweetness -- a profile that appeals to many young consumers today – yet they are distinctly varietal wines with sourcing pedigree."
Innovative Marketing & Promotion
Featuring bold graphics with different colors for each varietal, each Jellybean Wine label carries a familiar descriptor (i.e. Candy-Apple Red for Cabernet Sauvignon, Berry Smooth for the Red Blend) designed to communicate the flavors of the wine. All wines are bottled with screw cap closures to ensure preservation of the freshest fruit flavors.
In addition to traditional merchandising materials, Jellybean Wines is offering a unique tasting experience via their Jellybean "Shooters." The shooter is a unique combination of jellybeans that mirrors the flavors found in each Jellybean wine, allowing consumers to experience the flavor profile in a fun and easy way. Jellybean Shooter tasting events will be held at grocery stores, restaurants and other venues throughout the country; events will be posted on the Jellybean Wines website (http://www.jellybeanwines.com) and on the brand's Facebook page (http://www.facebook.com/jellybeanwines).
"We thought it would be fun and different to have consumers experience the taste profile of our wines through our namesake: the jellybean," says Kenton. "It's also a great way for people to "sample" our wines in places where there are legal restrictions concerning serving alcohol."
Winemaking Pedigree
Using grapes from well-respected vineyards and growing regions, Jellybean Wines are made by some of the most talented winemakers from their respective countries of origin. In California the wines are fashioned by Carolyn Craig, Winemaker at Sonoma's Larson Family Winery, whose 2005 Cabernet Sauvignon was named "Best of California" by the California State Fair. Jellybean's Italian wines are made by Alessandro Botter, who has worked extensively in the Apulia and Piave DOC regions and served as Vice President of Consorzio Tutela DOC Piave since 2002. In Spain, Jellybean Wines are made by Miguel Gurpide, a 40-year veteran of enology and viticulture who was Technical Director of Codornui Group for over 25 years.
About OFFbeat Brands
Launched in 2012, OFFbeat Brands is poised to quickly penetrate the U.S. market with wines and spirits specifically targeted to Millennial and Generation X consumers looking for beverage brands to enhance and complement their modern lifestyles. Founded by wine industry executive and entrepreneur Mike Kenton in partnership with European wine executive Xavier Batlle, OFFbeat comprises brands created and wholly-owned by the company as well as a small number of hand-selected international wine properties it represents under its Luxury Estates & Domains division. OFFBeat Brands is based in Petaluma, California with offices at 1304 Southpoint Boulevard, Ste., 240, Petaluma, CA 94954. Phone: (707) 897-3001. The company website can be found at http://www.offbeatbrands.com.
# # #
Contacts:
Mora Cronin, Cronin Communications, moracronin(at)comcast(dot)net , (707) 227-2641
Brenda Peterman, OFFbeat Brands, Brendap(at)offbeatbrands(dot)com, (707) 200-2216