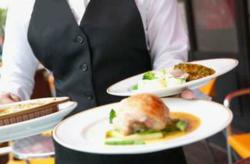 Electronic signature software makes it possible to streamline processes previously deemed cumbersome and antiquated.
Chicago, IL (PRWEB) May 01, 2012
Integrating electronic signature software can shorten contract signing processes in a variety of areas, including the hospitality industry.
Sertifi, a leader in providing electronic signature solutions, has identified four major benefits of integrating digital signatures into facets of the hospitality industry.
1. Saves Time
An electronic signature solution eliminates the time formerly spent on scanning hard copies of multiple banquet event orders into the venue's internal system, faxing them to the customer, and mailing final documents.
2. Saves Money
eSignature software means there are no paper, faxing and shipping costs related to event orders. Employees spend less time handling the paperwork, which enables them to be more productive in other areas.
3. Eliminates Paper
Under the current process for most banquet facilities, a representative meets with the customer and reviews the inventory. The customer signs off on several paper banquet event orders during the event.
Banquet staff with electronic signature software and an iPad can have the customer sign event orders via the iPad. The client gives a biometric signature (finger signature), and the documents are stored instantly in the hotel's backend system. There are no paper costs.
4. Improves the customer experience
The banquet department or hotel sends the customer a final invoice via email with signed event orders attached after the event. Because the process wraps up so quickly, it makes the customer relationship stronger and emphasizes the ease of working with your particular hotel or facility over others.
"Electronic signature software makes it possible to streamline processes previously deemed cumbersome and antiquated," says John Stojka, co-founder of Sertifi . "So far, facilities that have integrated our signature software have been pleased with the results."
Learn More
To learn more about Sertifi and its eSignature tools, call 1-866-983-8877 or visit their website: http://www.sertifi.com.
About Sertifi
Based in Chicago, Sertifi provides leading eSignature and Web Contracting solutions that enable organizations to close agreements up to 30 percent faster. Sertifi is the industry's most trusted eSign provider and has processed millions of electronic signature documents.
Sertifi provides the industry's leading eSignature Web Service API, which enables integration into existing systems, or pre-built connectors into leading platforms such as Salesforce and Microsoft Dynamics. Sertifi's Software-as-a-Service technology is used by leading companies including CareerBuilder, Microsoft, Pitney Bowes, and the U.S. Air Force.