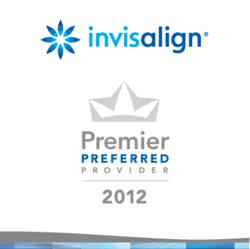 "I am very honored to be named an Invisalign Premier Preferred Provider,said Dr. Llewellyn."
Indianapolis, Indiana (PRWEB) May 02, 2012
Gary Llewellyn DDS, an Indianapolis, Indiana dentist has earned the status of Invisalign Premier Preferred Provider. This certificate is only awarded to those dental professionals who have achieved an exceptional level of Invisalign case experience. Only the top five percent of clinicians who have maintained a high level of experience in using the Invisalign system are named as premier preferred provider.
"I am very honored to be named an Invisalign Premier Preferred Provider. It allows me to successfully restore my patients' smiles to the way that they have always desired while maintaining standards that coincide with the Invisalign System," said Dr. Llewellyn.
Using Invisalign's revolutionary clear, removable aligners for straightening teeth, Dr. Llewellyn delivers superior smile experience to patients with crowded, unevenly spaced or crooked teeth. Unlike traditional braces with wires or metal brackets, the Invisalign system features barely noticeable, removable aligners that gradually move teeth into place. Patients can easily remove the Invisalign aligners for everyday activities like eating or brushing their teeth without suffering social embarrassment.
Before being authorized to prescribe Invisalign treatment to their patients, dentists must attend a special training course offered by Align Technology, the makers of Invisalign. The training focuses on clinical principles and successful treatment techniques as well as Invisalign's unique software and manufacturing process. After completion of the course, doctors are able to combine their individual experience with proprietary 3-D Invisalign software to order a series of nearly invisible, removable aligners that move teeth in precise increments according to the doctor's personalized patient treatment plan. Dentists will be named "Premier Preferred Providers" when they have reached a higher level of experience with the system than their peers.
About Indy Smiles:
Founded by Dr. Gary Llewellyn in 1996, Indy Smiles uses state-of-the-art technologies, such as digital x-rays, televisions in each room for both patient education and entertainment, Invisalign and now iTero, as part of its efforts to give the patient a comfortable experience and the best outcome possible. Indy Smiles serves Greater Indianapolis and the surrounding communities. Indy Smiles operates two offices at: 6211 West 30th Street, Suite G, Indianapolis, IN 46224; and 2010 West 86th Street, Suite 105, Indianapolis, IN 46260.