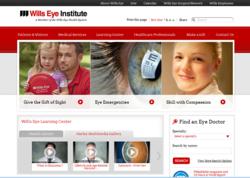 The Wills Eye Institute website is visited by doctors and patients from around the world, and we feel fortunate to have our educational content included.
- Jeff Peres, President and CEO of Eyemaginations
Baltimore, MD (PRWEB) May 01, 2012
Wills Eye Institute and Eyemaginations, Inc. recently entered into an agreement for patient education. Under the agreement, Wills Eye Institute will be featuring a series of informational videos from Eyemaginations on the homepage of its new website.
As the nation's oldest eye care facility, Wills Eye Institute is recognized as a world-class leader in the field of ophthalmology. It provides the full range of primary and subspecialty eye care, including cataract, cornea, retina and glaucoma treatment, neuro-ophthalmology, oculoplastics, ocular oncology, pathology, pediatric ophthalmology and refractive surgery.
Among the topics to be highlighted on the new website are Macular Degeneration, Refractive Surgery, Cataracts, Glaucoma, Diabetic Retinopathy, and Dry Eye. The site also includes animated content on cutting-edge procedures and treatments that are available at the Wills Eye Institute.
"We are honored to have our animations included on the new Wills Eye Institute website," said Jeff Peres, President and CEO of Eyemaginations. "As one of the nation's top ophthalmology centers, Wills Eye Institute has made patient education an integral part of their program and we remain committed to helping them provide the best possible experience for their patients. The Wills Eye Institute website is visited by doctors and patients from around the world, and we feel fortunate to have our educational content included."
"Wills Eye Institute is known around the world for its clinical expertise and dedication to patients. Education is a critical part of this process and we are very pleased to feature the Eyemaginations videos on our website," said Jack Scully, Director of Media Technology Services from Wills Eye Institute.
About Wills Eye Institute
Wills Eye Institute was established in 1832 as the nation's first eye hospital and has grown into one of the world's premier eye care facilities. Their clinical expertise, state-of-the-art diagnostic testing and advanced surgical capabilities make Wills Eye a worldwide referral center where more than 250,000 patients are treated annually. Today, they continue to shape the science and medicine of ophthalmology, their talented, skilled physicians and staff are dedicated to improving and preserving sight.
About Eyemaginations
Eyemaginations, Inc. is a health care media company focused on solutions that support professionals, patients and corporations in communicating and understanding complex topics. The company's in-depth experience with animation, design and software has enabled Eyemaginations to create integrated systems that provide clear and concise education solutions. Eyemaginations has a portfolio of products that are focused on eye care, ENT, audiology and facial aesthetics. Eyemaginations may be reached by phone at 1-877-321-5481, email at info(at)eyemaginations(dot)com or online at http://www.eyemaginations.com.