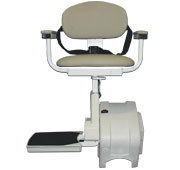 A new demand for DIY handicap lifts has emerged.
Port St Lucie, FL (PRWEB) May 03, 2012
Due to the recent recession, the raging popularity of internet shopping, along with the ever-expanding "Home Depot demographic," a new demand for DIY (Do-It-Yourself) handicap lifts has emerged. This vastly growing demographic includes handy individuals who enjoy working on projects around the home. For them, it is not necessary to spend hundreds of dollars hiring a professional to install a handicap lift in their home.
To meet this growing need, New Line Products has formed a new division – The Home Lift Store, that will focus solely on providing a wide variety of home lifts designed for self-installation. To make shopping easy and convenient, they have recently launched a brand new, easy to use website – http://www.homeliftstore.com. This website allows customers to make purchases at their convenience, without having to haggle with salesmen.
The Home Lift Store will primarily focus on vertical lifts and stair lifts. A vertical lift, also known as a vertical platform lift or porch lift, is a simple, easy to install type of residential elevator that allows the homeowner to access areas of their home, such as a porch or a deck, that would otherwise prove difficult or impossible due to a physical handicap, injury, or other factors. The Home Lift Store features vertical lifts in 4' and 6' lift heights that come mostly assembled, are easy to set up and install, and are manufactured in the USA according to ASME A18.1 Safety Standards.
A stair lift, also known as a chair lift or stairway chairlift, is a type of mobility lift designed to traverse a stairway, enabling mobility challenged individuals to access their entire home again despite various ailments such as leg or hip injuries, arthritis, heart or lung conditions and other maladies that may prevent them from being able to walk up and down their stairs. The Home Lift Store features a variety of stairlifts from basic to premium models for both indoor and outdoor applications.
Look for The Home Lift Store to expand their product line to include other types of home lifts in the coming months.
The Home Lift Store is a division of New Line Products, LLC. Its founder, Dennis Corrado, has over 10 years experience in the mobility lift industry, including installation, service, and troubleshooting.