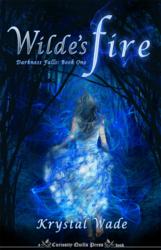 I never expected to be an author, but some stories simply won't leave you alone till they're written.
Leesburg, VA (PRWEB) May 02, 2012
Building on the success of Vicki Keire's Chronicles of Nowhere trilogy, independent literary publisher Curiosity Quills Press has acquired a new paranormal YA franchise.
The first installment of Krystal Wade's Darkness Falls series, Wilde's Fire, will receive simultaneous print and digital release on May 13th to coincide with Mother's Day.
As one heroine's tale ends with the third and final installment of Chronicles of Nowhere this Summer, so the growing publisher lays open the trials of another: Katriona Wilde.
Krystal Wade had this to say about her debut novel:
"Wilde's Fire is about a girl who's gone through life thinking everything is perfect, normal, but when she and her friends swim through a portal into a far from perfect world, she realizes everything she's ever known is a lie.
In this world ravaged by war and dying in utter darkness, she finds something worth living for... someone she's dreamed of for six years. Rather than running back home to save her own life, she stays to live out her prophecy for Encardia, and in return she falls in love.
I wrote Wilde's Fire because I had an image of a girl in a dense, lush forest, reaching out her finger to touch something shimmering. I couldn't get it out of my head. So I wrote. And couldn't stop. Six weeks later I had a rough draft. I never expected to be an author, but some stories simply won't leave you alone till they're written."
Marketing Director Lisa Gus added:
"There is so much exciting work coming out of today's Young Adult market, and we have been looking for exactly the right property for a long time now. As soon as I read Wilde's Fire, it was obvious we had found it. This is one title I am genuinely thrilled to be able to put in front of readers – although it helps that Krystal herself is such a joy to work with."
Interview and review copy requests, as well as general questions, are being taken through the Publisher's website at http://curiosityquills.com/contact-us/ . Digital galleys are also available through NetGalley.