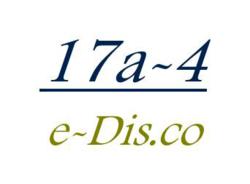 an in-house, user friendly platform with limited client expertise needed
Millbrook,NY (PRWEB) May 01, 2012
e-Dis.co, a division of 17a-4 llc, is now offering a new service model based on EMC's Kazeon eDiscovery software. e-Dis.co is a legal service provider (LSP) with the necessary operational experience and expertise vital to the eDiscovery process. By leveraging the EDRM (Electronic Discovery Reference Model) to drastically reduce the size of legal productions, eDis.co has provided significant savings to their clients. With this new in-house SaaS offering, e-Dis.co now has a cost effective entry into Kazeon, a high level eDiscovery solution, providing even more clients with a greater return on investment (ROI).
EMC's Kazeon platform integrates discovery, classification, search, reporting and automation into a single product. It is a comprehensive, sophisticated solution for legal and compliance to utilize in an eDiscovery. The complete tool offers extensive capabilities which dramatically reduce expenditures and offer swift early case assessments (ECA). 17a-4's SaaS model of Kazeon provides an even greater ROI, given that it brings a lower cost of entry, and still provides the ECA facilitating a legal matter. This is an in-house, user friendly platform with limited client expertise needed. eDis.co will provision the administrative functions for their clients and offer support during the review, cull and tag processes.
This new model of Kazeon has been deployed by eDis.co to address eDiscovery without substantial expense to the client. In this model, the client only pays for the initial indexing of a given collection. This opens the field to prospective clients who may not be able to budget for the extensive costs often associated with eDiscovery solutions.
"17a-4 has been giving information governance advice and supporting eDiscovery extractions for years. The eDis.co group has formalized the way we help companies bring eDiscovery in-house. I see the Kazeon application as a great tool to support ECA and moving the eDiscovery closer to the source. The culling down of reviewable documents is a competitive must for corporations down the road," says William Weeden, Director of eDiscovery Services, eDis.co, 17a-4 llc.