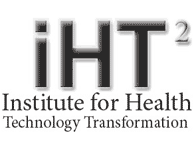 We are in the midst of tectonic shifts in healthcare on all fronts ranging from new discoveries to new payment models and new stakeholders entering the healthcare sector.
New York, NY (PRWEB) May 01, 2012
The Institute for Health Technology Transformation announced today that Jay Srini, Chief Strategist at SCS Ventures has been appointed Senior Fellow & Innovation Chair for the Institute's 2012 series of educational programs and meetings.
Jay Srini is an internationally recognized thought leader on national and international trends that are changing the face of healthcare. In her current role at SCS Ventures, Jay works with startup companies internationally to help them with their business development, technology strategy, and expansion. She also advises established companies on their strategies to enter and grow their healthcare vertical.
"We're thrilled to work with Jay in a concerted effort to move our health system forward with programs that foster the more innovative use of information technology," said Waco Hoover, the Institute's CEO. "Jay has a wealth of industry expertise that will make a meaningful and lasting impact on programs and initiatives developed at the Institute."
In Jay Srini's role as Senior Fellow and Innovation Chair she will work with the Institute's Advisory Board and other industry leaders to program and develop leading educational programs and collaboration opportunities for health care leaders. In tandem with the Institute's mission to promote the effective use of technology across the U.S. health system, Mrs. Srini will engage leaders from the community to ensure the Institute continually provides timely and relevant resources.
"We are in the midst of tectonic shifts in healthcare on all fronts ranging from new discoveries to new payment models and new stakeholders entering the healthcare sector," said Jay Srini. "Finding innovative ways to deliver cost effective patient centered health care has never been as important as now. Innovation is virtually impossible without collaboration! I am honored and excited to take on this new role at iHT2 to develop new programs and platforms to drive innovation in healthcare through collaboration knowledge acquisition and knowledge dissemination."
Jay's prior experience includes her role as Chief Innovation Officer for UPMC (University of Pittsburgh Medical Center) Insurance Services Division as well as her role as Vice President of Emerging Technologies for UPMC. Jay was Managing Director for e-Health Initiatives at Internet Venture Works where she led technology and industry assessments of opportunities presented by strategic partners, investors and external sources and served in executive management roles for its' portfolio companies. She has served on several healthcare boards including HIMSS (himss.org), PRHI (prhi.org) and is a frequent speaker on International Healthcare forums. She serves on several HHS (Health and Human Services –hhs.gov) related advisory panels and serves in an advisory capacity to International healthcare Institutions and Venture capitalists.
Jay has a Master's Degree in Computer Science from New York University and a Master's Degree in Business Administration from Bucknell University and her executive education from the Kellogg School of Management at Northwestern University. She also serves as one of the commissioners at CCHIT (Certification Commission of HealthCare Information Technology) in addition to her role as adjunct faculty Assistant Professor at the University of Pittsburgh and advisory board of the School of Computer Science at Carnegie Mellon University.
About the Institute for Health Technology Transformation
The Institute for Health Technology Transformation is the leading organization committed to bringing together private and public sector leaders fostering the growth and effective use of technology across the healthcare industry. Through collaborative efforts the Institute provides programs that drive innovation, educate, and provide a critical understanding of how technology applications, solutions and devices can improve the quality, safety and efficiency of healthcare. http://www.ihealthtran.com