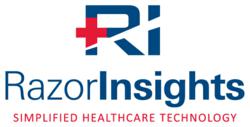 Kennesaw, Georgia (PRWEB) May 01, 2012
RazorInsights, a leading provider of healthcare information technology solutions for rural, critical-access and community hospitals, today announced that Perry County General Hospital in Richton, Mississippi will deploy ONE-Electronic Health Record to drive patient safety and achieve the Meaningful Use objectives outlined in the American Recovery and Reinvestment Act (ARRA).
"We're very excited to have Perry County General Hospital choose ONE-Electronic Health Record to better the overall quality of care for their community," said Edward Nall, CEO of RazorInsights. "Our single-database, cloud solution will jump start their ability to receive incentive payments, while also improving efficiencies at the point of patient care. We look forward to fostering our mutually beneficial partnership."
The ARRA provisions that are of most interest to Perry County General Hospital, and healthcare providers in general, are included within the Health Information Technology for Economic and Clinical Health Act (HITECH), signed into law on February 18, 2009. ARRA's HITECH provisions grant stimulus funds to healthcare providers that adopt and effectively use certified Electronic Health Record systems. ONE-Electronic Health Record, having gained certification as a Complete Inpatient EHR by ONC approved InfoGard Laboratories (ONC-ATCB 2011/2012), will provide Perry County General Hospital with a platform to successfully meet those objectives.
ONE-Electronic Health Record's single-database capabilities, including holistic, cross-departmental interactions, are resonating with administrators and clinicians alike. "At Perry County General, our continued success as the quality Critical Access Hospital in our area depends on our attention to detail," said Donald Bradford, CEO of Perry County General Hospital. "With that in mind, we sought a health record vendor who could meet our needs without burdening us with extraneous bells and whistles we didn't need and couldn't afford. Subsequently, we expect our relationship with RazorInsights, and our use of their ONE-EHR, to significantly enhance the ability of our caregivers to provide our patients with the quality services they need in a prompt, efficient manner. At the same time, this system will assure complete, accurate information about that care using a state-of-the-art record keeping system. In other words, exactly what we need… no more… no less."
About Perry County General Hospital:
Located in Richton, Mississippi, Perry County General Hospital is a 22-bed Critical Access Hospital (CAH) serving the residents of Richton, Perry County, and the surrounding area. Services provided include: 24-hour Emergency Care, Laboratory, Radiology, Ultrasound, CT, Endoscopy, Physical Therapy, Wound Clinic, Rural Health Clinic, Swing-bed Program and Inpatient Services. For more information regarding Perry County General Hospital visit http://www.pcghosp.com or call 601-788-6316.
About RazorInsights:
Based in Kennesaw, Georgia (in the metro Atlanta area), RazorInsights is a new, dynamic healthcare information technology company. In keeping with the principle of Occams Razor, they have created a simplified HIS solution for rural and critical-access hospitals. Introducing ONE (ONC-ATCB 2011/2012) -- a single-database, cloud solution offering a simple user experience with cutting-edge clinical tools and industry-standardized data. Hospitals can expect to improve their performance and bottom line with ONE from RazorInsights. To register for a live product demo or for more information, visit razorinsights.com or call 770-308-4111.