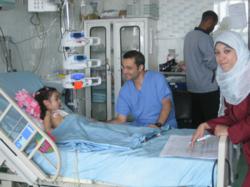 Oklahoma City, Oklahoma (PRWEB) May 02, 2012
Marco Paliotta, an Oklahoma City pediatric cardiac surgeon traveled to Assiut, Egypt to treat pediatric congenital heart defects at the Assiut Children's Hospital as part of his volunteerism with the International Children's Heart Foundation.
Dr. Marco Alberto Paliotta, MD, continued volunteering with ICHF this spring, spending one week in Assiut, Egypt at the Assiut Children's Hospital as a part of an international team of surgeons with ICHF donating their time and abilities to treat congenital heart defects in local children. The operations performed by Dr. Paliotta and the ICHF team consisted of treating moderately complex cases of cardiac defects. The ICHF team, led by Dr. William Novick, worked with teams of local surgeons and other medical professionals to improve the Assiut Children's Hospital's existing cardiac program.
In 2011, Dr. Paliotta represented ICHF on a medical mission trip to Guayaquil, Ecuador. On both trips, the volunteers endured 15-hour days full of surgeries and education to help their patients. Because the ICHF teams are made of international medical professionals, language barriers can be common. However, the team worked around language barriers to collaborate with and work alongside the local cardiac staff. (In May 2012 Dr. Paliotta will continue working with ICHF on another mission trip to Najof, Iraq.)
Dr. Paliotta attended medical school in Italy at the University of Rome – La Sapienza. His current position is Assistant Professor at the University of Oklahoma's Health Science Center specializing in pediatric cardiothoracic surgery. In addition to volunteering with ICHF, Dr. Paliotta also supports the American Heart Association, Corazon con Esperanza and Habitat for Humanity.
In 1993, the International Children's Heart Foundation was established to provide hospitals in developing countries with medications, supplies, training and teams of surgeons and medical staff to assist and provide medical care that families would otherwise be unable to attain. This year, ICHF has 35 trips scheduled to 10 countries.