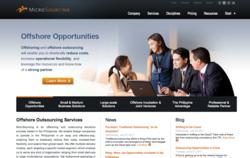 We're entering an exciting period for smaller companies where they can increase productivity that enables them to not only bring their start-up idea to life, but also survive challenging times and compete with larger multinational competitors.
Manila, Philippines (PRWEB) May 01, 2012
Manila-based offshoring and outsourcing solutions provider MicroSourcing announced today the opening of its first Australia based office, which marks yet another milestone for the company as it continues to experience near record growth in 2012. To support the growing demands of a bustling Australian economic climate, MicroSourcing has also launched http://www.microsourcing.com.au.
In a strong effort to maintain industry leadership, MicroSourcing is establishing a Sydney based sales and customer relationship office to service the Australasian market. This new client relations team will foster partnerships with local business entities looking to access talent and increase operational productivity while containing costs. The goal is to satisfy Australia's growing interest and need to include offshore and outsourced teams to their company structures and delivery strategies.
"We have observed a substantial increase in the number of Australian clients we are acquiring and feel that a home-turf presence inspires more confidence in the services we provide, " stated Philip Kooijman, CEO at MicroSourcing. "Small and medium sized businesses are now realising the positive benefits of utilising off-shore teams, including increases in productivity, operational efficiencies and access to skilled labour that would be otherwise difficult to attract locally."
The Sydney office is the first for MicroSourcing outside of the Philippines. The purpose of this high-powered physical integration is to serve the Australian business community efficiently and effectively through hands-on transition management and providing on-going service support.
"Technology advancements and sector maturity means that the time is ripe for local entrepreneurs and SME's to realise the advantages of off-shoring," added Kooijman. "We're entering a very exciting period for smaller companies where they can now utilise a productivity lever that enables them to not only bring their start-up idea to life, but also survive challenging times, compete with larger multinational competitors and grow their business through re-investment."
The Philippines has emerged as a premier choice for off-shoring and outsourcing for Australasian companies because the cultural, economical and geographical integration is virtually seamless. With the new office in Sydney, MicroSourcing has bridged the geographic gap between the two countries and is able to offer Australians easy access to a highly skilled, cost-effective workforce in the Philippines.
The newly launched website http://www.MicroSourcing.com.au will give Australasian customers all the information and tools they need to make an informed decision on potentially offshoring to the Philippines. The website has the following features:

Solutions Finder - an interactive question and answer segment that will point visitors to their perfect solution in a matter of minutes.
Virtual Tour - enables visitors to have a good look at MicroSourcing's office and facilities as well as meet some of the staff and get a feel for the company's atmosphere and culture.
Information Library - provides information on outsourcing, offshoring and the Philippines to assist those who are new to offshore outsourcing.
News & Blog - frequently updated news and commentary providing tips and resources for business owners.
About MicroSourcing:
MicroSourcing is an offshore outsourcing solutions provider which specialises in setting up, hosting and the on-going management of operations in the Philippines on behalf of companies from all over the world. Offshoring through MicroSourcing helps clients reduce their costs, increase their operational flexibility and access a talented labour pool.
MicroSourcing's service delivery models are tailor-made to service a wide range or organisational sizes and structures, from entrepreneurs to small and medium-sized businesses.
MicroSourcing currently has over 2,000 employees servicing 75 clients from five state-of-the-art delivery centres in the Philippines, which can accommodate the various needs of our global client base.
For more information, visit: http://www.MicroSourcing.com.au
SOCIAL MEDIA NETWORKING:
Facebook: http://www.facebook.com/MicroSourcing
Twitter: http://www.twitter.com/MicroSourcing
MEDIA CONTACT:
Ash Truscott, General Manager – MicroSourcing, Australasia
Tel: +61 9043 5190 Email: info(at)microsourcing.com.au
3