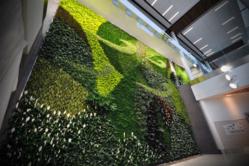 The Living Wall is not only a stunning visual feature, but is an eloquent demonstration of EIA's commitment to sustainability
Edmonton, AB (PRWEB) May 01, 2012
The first large-scale living wall in an airport terminal is now on display at the new Stantec-designed U.S. departures terminal at Edmonton International Airport.
Stantec integrated the Living Wall into the design of the terminal to not only provide a dramatic visual element, but also to play a major role in improving air quality.
"Stantec is proud to have incorporated a Living Wall into this project. The Living Wall is not only a stunning visual feature, but is an eloquent demonstration of EIA's commitment to sustainability," Stanis Smith Stantec's Senior Vice President for Buildings. "It is the first large-scale Living Wall ever inside an airport terminal, and is an integral part of the Airport Authority's strategy to be one of the first airports in the world to achieve LEED certification."
Inspiration for the artistic design of the Living Wall came from Cirrus cloud formations and impressionist art from Canadian artists. The main central wall is 1,120 sq. ft. and the left and right upper walls are 160 sq. ft. and 140 sq. ft. respectively. This makes it one of the largest Living Walls in North America.
The new terminal at EIA is Stantec's tenth major airport project in Canada. One out of every three passengers flying in North America today will travel through an airport where Stantec has completed a significant project.
Stantec, along with partners MMM Group and PCL Construction, worked to create a world-class airport terminal at EIA, designed with passenger experience and comfort in mind.
Green over Grey, a company that specializes in the construction of living walls, built the 1,420 sq. ft. vertical garden consisting of approximately 8,000 individual plants, representing 32 unique species.
About Stantec
Stantec provides professional consulting services in planning, engineering, architecture, interior design, landscape architecture, surveying, environmental sciences, project management, and project economics for infrastructure and facilities projects. We support public and private sector clients in a diverse range of markets at every stage, from the initial conceptualization and financial feasibility study to project completion and beyond. Our services are provided on projects around the world through approximately 11,000 employees operating out of more than 170 locations in North America and 4 locations internationally. Stantec is One Team providing Integrated Solutions.
For more information or to arrange interviews, contact:
Matt Stuart
Stantec Media Relations
(403) 716-8165
[email protected]
-30-