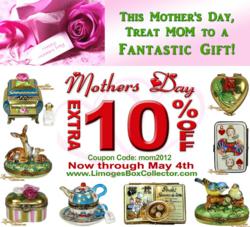 Gift-buyers can make Mom's gift even more special by adding a personalized message inside! LimogesBoxcollector.com offers artist hand-inscribed personalization to make any gift purchase extra special!
Los Angeles, California (PRWEB) May 01, 2012
LimogesBoxCollector.com is proud to announce its long-awaited Extra 10% Mother's Day Sale on the entire collection of French porcelain Limoges boxes. Now through May 4th, luxury gift shoppers and Limoges collectors can take advantage of great savings on an extensive selection of magnificent Limoges boxes for Mother's Day or for any occasion.
The luxurious hand-crafted and hand-painted French porcelain Limoges boxes make an ideal gift for Mom this Mother's Day. The Limoges box collection features top of the line French porcelain gifts, hand-painted by the most artistic Limoges artisans in Limoges, France.
To make Mom's gift even more special, LimogesBoxCollector.com offers artist hand-inscribed personalization. A personalized gift is so much more meaningful to the recipient when it contains sentimental value.
LimogesBoxCollector.com is not only known for its fantastic selection of top quality Limoges boxes, but also for its exceptional customer service and very fast shipping. All Limoges boxes offered on the LimogesBoxcollector.com website are in stock and every purchase is shipped the same-day as purchase. With our regular shipping, your purchase will normally arrive in 2-3 days (within US). Of course, we offer expedited and overnight shipping for those who need their purchase even faster.
Authentic Limoges boxes are among the top collectibles in the US. These miniature works of art are a great favorite among various age groups. Many collectors not only continuously add to their own collection but give a gift of Limoges boxes to their children and grand-children to start their own collection at a young age.
The authenticity of the greatly sought-after and highly collectible French Limoges boxes is in the fact that they are produced only in the Limousine region in central France. These magnificently decorated miniature boxes are made of the highest quality white porcelain found only in that region. Every Limoges box is crafted and artfully hand-painted by French artisans with vibrant colors and glaze, fired numerous times for brilliance and luster, and is finished by hand with decorative hinges to create a true masterpiece for shoppers and collectors' enjoyment.
Avid collectors are always on the lookout for unusual and hard-to-find pieces to enhance their collection. LimogesBoxCollector.com is proud to offer a fantastic variety of styles for every taste and budget. Among its offerings, LimogesBoxCollector.com offers an extensive selection of Limoges boxes by Beauchamp Limoges, a top producer of French Limoges boxes. For the avid Jane Austen fans, the magnificent Beauchamp Limoges collection includes a Jane Austen collection as well as many other exclusive styles.
The fantastic collection of Limoges boxes offered also includes a great selection of out-of-production, Hard-to-Find and Rare Limoges boxes. At LimogesBoxCollector.com, collectors can find many one-of-a-kind pieces to crown their collection. Walt Disney collectors and fans will find the largest selection of rare and greatly-sought-after Walt Disney Limoges collection by Artoria Limoges.
Every Limoges box offered in the collection is 100% guaranteed to be authentic and crafted entirely in Limoges, France. Each Limoges box bears the insignia of the artists as well as the designation "Peint Main" signifying that the Limoges box is painted by hand and "Limoges, France" as a guarantee of the Limoges being manufactured in the Limoges region of France.
When purchasing collectibles, it is of utmost importance to find a trusted source who guarantees quality and authenticity as well as providing excellent expert customer service. For those who seek the highest quality, great selection and competitive prices on the market, they will find a trusted source in LimogesBoxCollector.com, an authorized dealer for over a decade and the #1 choice for Limoges collectors and gift-buyers worldwide.
LimogesBoxCollector.com continually adds new and original designs of Limoges boxes as well as retired and hard-to-find pieces in various themes. With every visit, customers always find a variety of new-arrivals to choose from and to enhance their collection.
LimogesBoxCollector.com is owned by Grand Dezign, Inc., a direct importer of French Limoges Boxes. LimogesBoxCollector.com is an authorized dealer and direct importer of all French Limoges lines and is the exclusive retailer and distributor of the luxurious line of Beauchamp Limoges boxes and jewelry. The company has served the US and international community for over a decade.
For more information, please contact:
Customer Relations Specialists
LimogesBoxCollector.com
310-922-2899
http:// http://www.limogesboxcollector.com