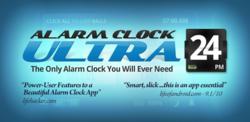 Alarm Clock Ultra Brings Power-User Features to a Beautiful Alarm Clock App - Lifehacker.com

Alarm Clock Ultra Is Arguably The Best, Most Comprehensive Android Alarm App Out There - Addictivetips.com
(PRWEB) May 18, 2012
Appsdev have announced their latest Android App, the Alarm Clock Ultra. It's a great looking alarm clock full of ground-breaking features that keeps the user up-to-date with the latest news headlines, plus social networks like Twitter and Facebook. After a busy day, the user can head off to dreamland with the gentle sounds of birdsong, the ocean or ambient music. When morning comes, they can wake up to an alarm tone of their choosing from an unlimited selection, or even a favorite track from their own record library. The Alarm Clock Ultra alarm can be turned off or set it to snooze with just one shake, and the option of pre-set puzzles that must be completed before the alarm is turned off guarantees the user that over sleeping becomes a thing of the past.
The Alarm Clock Ultra has taken the boring, limited standard android mobile phone alarm concept and blasted it into the stratosphere. Starting with its great looking, minimalistic yet fully functional screen (a selection of widgets allow the user to tailor its styling to their own specifications), the Alarm Clock Ultra's UI (User Interface) features six unobtrusive buttons that run the whole show. Using these buttons, one can set everything from the exact tone of their morning alarm, to the time needed to soft boil a medium sized breakfast egg to perfection.
How one wakes up in the morning can literally make-or-break their day. If the first thing a person hears is a harsh, abrasive early morning alarm ringing in their ears, it could easily put them in a grumpy mood that may last for hours. Starting the day with the exact alarm tone to suits one's personality, the sound of a piece of music they love or even their favorite news podcast ensures that they wake up refreshed, relaxed and happy.
The Gradual Alarm Increase option guarantees that the user always wakes up, no matter how deep they sleep. The Puzzle feature gives the option of solving anything from a simple task to a complex mathematical problem before the alarm can be turned off, further ensuring that one never again sleeps through an alarm call.
Millions of people love to check their Facebook and Twitter messages first thing in the morning, and now they don't even need to turn on their computers or fumble about with their phones – the Alarm Clock Ultra features all chosen social network messages at the top of the screen - right above the time display - along with breaking news headlines and weather updates. So even before the user climbs out of bed, they are up to speed with all of their essentials.
On to the kitchen, and if the user is partial to a boiled egg for breakfast, the Alarm Clock Ultra has an amazing feature that literally gives the specific time needed to boil any egg – no matter what size - exactly how they like it, so when the alarm goes off, their egg is cooked to perfection every time.
The Alarm Clock Ultra allows the user to set unlimited alarm calls throughout the day with specific titles. Apart from their morning alarm, they may also need reminding to ''Write that memo'' or ''Call Mom'' or ''Go to the gym'' for example. Speaking of gyms, Alarm Clock Ultra also contains amongst its many features a state-of-the-art stopwatch and timer that can be used to time a run, workout or whatever else they may need to time.
Alarm Clock Ultra is so concise, it will become an indispensable tool in the user's day-to-day lifestyle, helping them to manage their time like never before, and ultimately leaving them with more time free to do the things that make them happy.
And speaking of happy, just imagine how great it will feel drifting off to sleep after another busy day in the comfort of one's bed, listening to the sound of soft birdsong in a forest or the ocean gently rising and falling, safe in the knowledge that Alarm Clock Ultra will soon be welcoming them into a new day... with their Tweets and Facebook messages awaiting.
For more information go to: Alarm Clock Ultra Google Play Store.