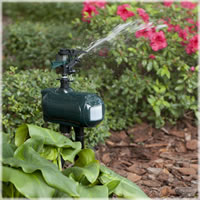 I got one of these to protect my bird feeder from the neighbor's cats, but it works so well, I'm buying another for my vegetable garden...Ginny K--Duncraft Customer
Concord, NH (PRWEB) May 01, 2012
One of the more difficult questions Duncraft customers ask is "How can I keep neighborhood cats away from my bird feeders?" Now Duncraft has the perfect answer—Havahart's motion-detecting Spray Away that aims a sudden spray of water to chase away animals of any size.
Nothing is more annoying to a bird lover than watching the neighborhood cat stalking and ambushing birds at their bird feeder. In fact, domestic and feral cats kill millions of birds each year. Duncraft never condones feeding the birds if attracting birds into the yard puts them in danger. Two other issues frequently reported by Duncraft customers are squirrels raiding their bird feeders by day and marauding raccoons striking at night.
When staked into the ground near a bird feeder, Spray Away's motion detector can be set to detect small animals on the ground such as a cat or squirrel, up to 20 feet away. Larger animals can be detected up to 30 feet away. Once activated, the Spray Away instantly delivers a burst of water aimed at the animal. The fast action of the sprayer head as it sweeps the area, combined with the burst of water, unpleasantly startles the animal and frightens it away. Cats are especially disturbed by the sudden water bath! Many times animals will stay clear of the area after only one or two experiences with the Spray Away.
The Spray Away has several improvements over other water spraying devices. It uses only 2 -3 cups of water each time it operates and it connects directly to a garden hose rather than using a tube system. Staking into the ground is easy with the built-in foot stirrup. And a blinking LED light lets customers know when the batteries need replacing, so there's no need to test the system to be sure it's working. Duncraft highly recommends the Spray Away to customers wanting an efficient repellent that is chemical free, safe for all animals and operates 24 hours a day.
Founded in 1952 and located in Concord, New Hampshire, Duncraft's objective is to bring the joy of backyard birding to wild bird lovers all across the country. Mike Dunn, owner and CEO is constantly inventing and searching for innovative ideas in bird feeding—giving bird lovers years of bird feeding enjoyment, success and satisfaction.
Duncraft Wild Bird Superstore
102 Fisherville Road
Concord, NH 03303
603-224-0200