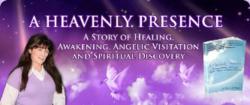 "Complete bliss does not even come close to the feeling this Being/Angel left with me", Suzanne states.
North Plainfield, NJ (PRWEB) May 02, 2012
Energy healer, pet psychic, Suzanne O'Brien has just released her new book, "A Heavenly Presence". It is her personal account of how her life unfolds after experiencing an angelic visitation and acquiring paranormal abilities.
In 1997 Suzanne O'Brien discovered she had a brain tumor that had grown into her brainstem. She opted for conventional surgery and that's when her life changed dramatically after waking up to an Angel in the recovery room. She ultimately went from being a stockbroker to becoming an energy healer, pet psychic.
In Suzanne's book she gives her account of what one might experience after having had an angelic visitation and how her life was impacted afterwards. "Complete bliss does not even come close to the feeling this Being/Angel left with me", Suzanne states. At a time that most would likely call catastrophic, she finds utter peace.
Soon after, her World seems to fall apart all around her, yet she says she found hope and optimism like she had never before known. Her faith in a higher power always at work in her life only grew stronger as she became witness to many "unexplainable" or "paranormal" events, now a regular part of her life. She is thrust from corporate America (having been a stockbroker) into a World full of "paranormal" happenings as she learns to relax, let go, let God, and follow her heart.
In "A Heavenly Presence", Suzanne takes you on a fascinating journey of her divine personal experiences. She helps you see beyond the veil of this world, and reminds us that we're not alone. Her sense of faith and courage is inspiring!" says Kimberly Ann Coots – best selling author of Divine Worth.
"A Heavenly Presence is a sweetly written story of one woman's personal journey to finding her path in life. Though she faces many valleys along the way her story will leave you feeling uplifted and inspired ready to take on your own life with renewed faith" says Peggy McColl-New York Times best-selling author.
One of the greatest lessons she has learned through it all is that we are never alone. She becomes acutely aware of our human potential and our deeply Divine connection. She discovers we never really die and that after death communication is possible. She also discovers her ability for interspecies communication, as well as Spiritual, or energy healing. She comes to believe that we all have senses beyond the five physical senses; we just need to form the neural pathways to access them.
Suzanne OBrien, guided by an angel after a life saving brain surgery, is now a Reiki Master, Energy Healer, Medium/Animal Intuitive, Artist and Author. She teaches Energy Healing as well as offers distant sessions. She also offers Pet Readings through photos. She aims to help others with their own healing issues and to foster closer relationships and understanding between the human and pet bond. She now runs green, Earth-friendly sites (reikichicktraining.com and bellydancingchick.com) hosted on a wind powered server in alignment with the philosophy of being conscious of our impact on the environment.
Book available at http://www.aheavenlypresence.com/bkpromo
To contact Suzanne O'Brien call (908)753-4650 or email her at Suzanne(at)reikichicktraining(dot)com