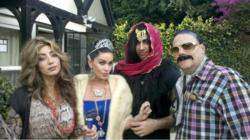 Los Angeles, CA (PRWEB) May 04, 2012
Jasmine Waltz recently launched a celebrity gossip site; she has also been busy producing parody videos for the audience of her site, formchaos.com. Jasmine's latest antics on formchaos has tastefully poked fun at The Bravo channel's Shahs of Sunset. This parody was starring Jasmine Waltz, Kevin Farley, Lucy Tredway. "Shahs of Sunset ...The REAL shah's of sunset.".
In addition, Jasmine was featured on Honey Badger latest youtube video. In this skid Jasmine and Randall The Honey Badger go on a first date walking the Griffith Park.
Watch What happens when Randall meets someone online expecting a walk-and-talk, only to find out it's actually a "date"?!
FormChaos is a hit, and with straight shooter, Jasmine Waltz's unfiltered takes on Hollywood absurdity.