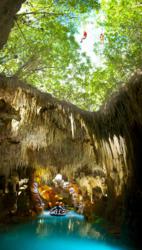 Xplor Park
Cancún, Quintana Roo, México (PRWEB) May 04, 2012
Xplor park, an amazing adventure in the Cancun-Riviera Maya area, has been designated by the American Automobile Association (AAA), with 53 million members in the United States and Canada, as a "GEM" attraction, which means that it is an attraction of exceptional interest, a must-see for tourists coming to the destination.
Tony Perrone, AAA Director for Mexico, announced this designation and stated that, with this addition, Experiencias Xcaret is the only organization that has had all its attractions named a "GEM" by the AAA, which reveals the importance of its contribution to tourism in Mexico. Xcaret and Xel-Há parks received this acknowledgement by the AAA in past years and the adventure park Xplor, the newest addition to this organization dedicated to sustainable tourist entertainment, was added to the list today.
"We congratulate you and your personnel for your daily efforts to create exceptional attractions for tourists," says Tony Perrone on a letter written to Miguel Quintana, the President of Experiencias Xcaret, informing him about the designation for Xplor. The AAA "GEM" designation is equivalent to 5 diamonds awarded by the same organization in the hotel category.
About Xplor park:
Xplor is a unique Park, perfect to venture into the heart of the earth, cross the skies gliding on zip-lines and be amazed by an unbelievable underground world. It has 2.4 miles of zip-lines; 6.2 miles of jungle to discover in amphibious vehicles; 437 yards to swim on a river surrounded by stalactites; and 1, 203 yards to paddle on rafts.
Visit:
http://www.xplor.travel
Follow us in our social networks:
http://www.facebook.com/XplorPark
Twitter: @XplorPark
Our videos:
Xplor: http://bit.ly/HcayAq
For further information please contact:
Iliana Rodríguez
Subdirección de Comunicación
Experiencias Xcaret
irodriguez(at)experienciasxcaret(dot)com(dot)mx
Mobile: 044 (998) 845-5644