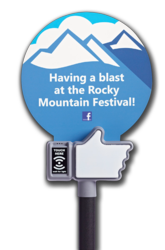 Minneapolis, MN (PRWEB) May 02, 2012
Interactive Meeting Technology announces the arrival of SOCIALPOINT™, an innovative social media service for events.
SocialPoint gives event organizers a simple way to energize an event, promote a brand, and measure the results. Using a SocialPoint station, event attendees can share their experiences with their Facebook friends by posting messages that communicate passion for a product or cause along with personalized event photos. SocialPoint offers interactive technology that lets the event organizer control the social media message while entertaining attendees. A turnkey solution, SocialPoint is easy to deploy, fun to use, and a smart choice for controlled, measurable messaging.
"I am thrilled to bring SocialPoint to the market, as the latest we have to offer in social media technology for our clients," said Samuel J. Smith, Managing Director of Interactive Meeting Technology.
SocialPoint will be on display at the Event Marketing Summit in Chicago April 30 – May 2. For more information, see http://www.socialpointforevents.com.
About Interactive Meeting Technology, LLC
Interactive Meeting Technology, LLC (IMT), based in Minneapolis, MN, is a boutique event technology services firm that creates digital interactive experiences that transform event attendees into active participants. IMT has deep expertise in the design, production and execution of interactive technology at large-scale events.