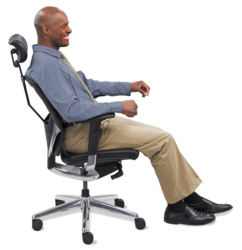 Milwaukee, Wisconsin (PRWEB) May 02, 2012
A new selection of designer office chairs is on the market, thanks to National Business Furniture (NBF). The NBF Signature Series Arris Chairs include several convenient ergonomic adjustments, are an aesthetically pleasing blend of chrome, mesh, and upholstery, and cost about half as much as high-end designer chairs, making them an attractive option for mainstream businesses.
The ergonomic adjustments give each user a personalized fit, helping users avoid injury, fatigue and chronic pain. "Furniture that employees can adjust increases their productivity, makes them healthier, and reduces healthcare and compensation claims," said Rick Wachowiak, NBF General Manager, "That's another reason the Arris Chair is a valuable choice — it benefits your employees— and it effects your bottom line."
Aesthetically speaking, the chair's form is unique and contemporary: gentle curves combine with angular elements; shiny chrome meets up with black mesh and upholstery, and chair controls are hidden within the form.
Randy Farah, NBF Vice President of Merchandising, spoke about the chair's low price, "We're excited to be able to offer a chair that possesses style and function like that of more expensive office chairs, but at a price that many businesses can afford." The cost of Arris chairs is about half that of comparable designer chairs.
NBF developed its own private-label brand, NBF Signature Series, as a way to provide customers exclusive selection, distinctive quality, and exceptional value. Often, furniture selections for the series are developed as a response to customer inquiry and need. In the case of the Arris Collection, Farah happened upon the chair at a manufacturer's site and knew, "It was perfect for NBF customers."
To learn more about the Arris Collection, watch the video at http://www.NBF.com.
###
About National Business Furniture
National Business Furniture was founded in 1975 and is a leading provider of office furniture to large and small businesses, government institutions, healthcare facilities and educational organizations. Guided by the vision "Furniture that Works. People who Care." – NBF provides exclusive products, fast shipping, expert service and a lifetime guarantee to thousands of loyal customers.
In 2006, NBF was acquired by K+K America, LLC, the leading group of business-to-business direct marketing companies in North America. For a free catalog, or to browse the complete selection of office furniture such as desks, chairs, file cabinets, bookcases and reception furniture, visit http://www.NBF.com.