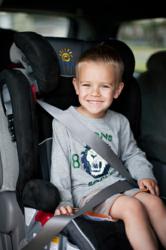 More peace of mind comes from its performance when tested – it meets all U.S. and Canadian motor vehicle safety standards. This seat doesn't come cheap, but you get what you pay for.
Atlanta, Georgia (PRWEB) May 15, 2012
10Rate reviewers and staff selected 10 of the best booster seats for 2012, assigning each a numerical rating as well as awarding three models that stood out for quality, value, and budget. Testing and consideration for this Booster Seats Top 10 list was given based on this set of seven criteria:
1. Lightweight and easy to transfer from one car to another
2. A compact fit to make it easy to put as many as three boosters in the back seat
3. A snap to install, with clear instructions and diagrams that are easy to understand
4. A safe seat that passes government safety tests and automotive crash tests
5. Affordability, so working families won't break the bank to buy one
6. Good quality workmanship with enough safety features to provide extra protection in a crash
7. The ability to convert into a larger, or even backless, seat to accommodate growing kids
The annual Best Booster Seat 2012 awards list featured the Clek Oobr, winning the Best Quality spot and an 8 out of 10 rating. The review noted several strengths of the booster seat as follows: "It has a magnesium back frame to protect from protruding objects, steel rods connecting the headrest to the back frame and a layer of energy-absorbing foam. It also has audible clicks for the latches, so you can hear when they are securely fastened. More peace of mind comes from its performance when tested – it meets all U.S. and Canadian motor vehicle safety standards. This seat doesn't come cheap, but you get what you pay for."
10rate's editors also gave the Best Value booster seat award to the Recaro ProBooster High Back in the second place spot. Also with a rating of 8 out of 10, the review boasted, "The polystyrene foam padding throughout the seat is designed to absorb external impact in case of a crash. Unlike many child car seats made in China, the Recaro ProBooster is assembled in the U.S. and meets Federal Motor Vehicle Safety Standards for child restraint systems (FMVSS 213) and Flammability of Interior Materials (FVMSS 203.) That carries a lot of weight in the industry, and we gave this seat a high rating for that."
Additionally, the Best Budget award from the Top 10 Best Booster Seats list went to the Cosco Highrise Backless, for which 10rate noted, "Cosco's Juvenile Highrise Belt-Positioning Backless Booster Car Seat is a mouthful, but basically this seat is designed for kids who have outgrown their infant car seat. It holds kids from 30 pounds up to 100 pounds, and has a convenient flip-down cup holder for drinks and snacks. It's easy to put in and take out of the back seat and there isn't the issue of whether or not it's small enough to fit in a compact car. Parents dreadfully tired of lugging around a heavy car seat can rejoice – the Cosco Highrise weighs only 4.2 pounds."
Each spot in 10rate's Booster Seat Reviews was represented by a different model from a different brand. Notably, an Evenflo Booster Seat, the Big Kid No Back AMP, earned second place in overall ranking, with the review having this to say of its 9.5 out of 10 rating: "When kids get big enough to fit into a backless booster, it's the last step before sitting in the back seat. There's no fiddling with a five-point safety harness, just buckle up the child using the vehicle safety belt. Use the booster seat's belt clip to position the seat belt for comfort and safety. Unlike the molded plastic cup holders other boosters have, this one has elastic cup holders to accommodate an extra-large drink. The $24.99 price tag gives parents relief in the wallet from more expensive booster seats."
10rate.com conducts reviews in various product and services categories and publishes "Expert Top 10 Lists for Everything in your life." The company's web site strives to "Make it Easy" to select from the hundreds of choices there are in the product and service market place. All products and services are thoroughly researched by the company's expert editors prior to receiving a rating on a 1-10 scale. In addition to product reviews the company's editors write guidelines, buying guides and articles on various topics surrounding each product or service category covered to help educate the consumer.