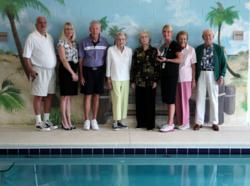 "... we think there's a better way to approach long-term care ..."
Vero Beach, FL (PRWEB) May 02, 2012
The Lakes at Pointe West, a Vero Beach, Fla.-based retirement community, announced today that the community's wellness program has won the Assisted Living Federation of America's (ALFA) 2012 'Best of the Best' Award in the category of Clinical Wellness.
The company's "purpose-based wellness programming" took home top honors in one of the most competitive categories, Clinical Wellness. Purpose-based wellness programming is a collection of wellness programs developed specifically to counter the effects of chronic diseases or afflictions common among older adults.
The impetus for developing the wellness initiative was recent data which showed that a majority of Medicare, Medicaid and personal health care expenditures for adults 65 and older fall into two categories: the long-term management of chronic diseases and the immediate care required following a major health event such as a fall or stroke.
Executive Director Karen McHenry says the community's purpose-based wellness programming addresses these needs by offering members alternative solutions to managing certain chronic diseases and by seeking to prevent avoidable health events such as falls. If a negative health event is considered unavoidable, she says the programming seeks to reduce a member's length-of-stay in a long-term care setting.
One of the programs, called 'Healthy Back and Balance,' was designed to improve balance and strength while reducing lower-back pain with timed strength and cardio exercises. Following the class, 16 participants reported a 6.7% increase in balance and a 7.1% increase in strength.
"For years now, we have made it our goal to lead the industry in developing wellness programs which can improve and extend the lives of older adults," said McHenry. "This recognition is humbling – we think there's a better way to approach long-term care and we are excited about the opportunity to share our findings with other providers."
Rick Grimes, president and CEO of ALFA, says the competition is designed to encourage the sharing of best practices.
"We have the honor to spread the good news about remarkable resident-centered programs fulfilling every aspect of senior-living operations, from wellness services to staff development," said Grimes. "All of this year's entries speak to the high standard of innovation and professionalism among our members and demonstrate their resourcefulness and ingenuity."
Program submissions were judged for their uniqueness in the industry, innovative use of ideas from outside the industry, impact on residents, their families, staff and operations, embrace of industry core principles, the strength of quantitative and qualitative results, and strategic vision.
Winning programs and other innovative strategies are recognized in the May/June 2012 issue of the Senior Living Executive (http://www.alfapublications.org) and will be recognized at COMMUNITY 2012, the ALFA Conference and Expo. Learn more about the event for senior living executives at http://www.alfa.org/conference.
About The Lakes at Pointe West
The Lakes at Pointe West is an all-inclusive, luxury retirement community located in Vero Beach, Fla. The community's care-free lifestyle helps members live longer, healthier and happier lives by offering an array of amenities including maintenance-free living, daily fine dining, weekly housekeeping, a nationally recognized wellness program and on-site health services. Members can choose from a variety of floor plans including single-family cottage homes and villa apartment homes. Assisted-living and memory-care rooms are also available for those who need to make a transition from independent living. More information about The Lakes at Pointe West is located at http://www.Pointe-West.com.
ABOUT THE ASSISTED LIVING FEDERATION OF AMERICA
The Assisted Living Federation of America (ALFA) is the largest national association exclusively dedicated to professionally-managed, resident-centered senior living communities and the seniors and families they serve. Since 1990, ALFA has advocated for choice, accessibility, independence, dignity, and quality of life for all seniors. ALFA's programs promote business and operational excellence through education, research, publications, professional networking and online tools designed to foster innovation and entrepreneurism in the field of senior living. Visit ALFA's Web site at http://www.alfa.org.
# # #