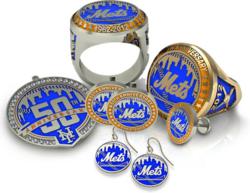 The Official Jewelry of the NY Mets
Queens, NY (PRWEB) May 02, 2012
The pieces feature the Mets logo or Mets 50th Anniversary logo and are made of sterling silver (.925), sterling silver with 14Kt gold plating, and 14Kt gold with diamonds (VS1-VS2 and G-H color). Many are adorned with Swarovski Crystal stones and are available for purchase in the team store at Citi Field and http://www.sluggersjewels.com.
"In 1986 a representative came into my jewelry store and asked if I would like to advertise in the Mets Fan Appreciation Book, which was going to be sold at Shea Stadium that year. That gave me an idea – why not design jewelry just for Mets fans?" recalls Marvin Soskil, President and CEO of Sluggers' Jewels. "Well, 25 years later my dream has come true."
The items range from the size of a dime to 2", and are made for men, women, boys and girls. "Star Player" jewelry will be coming soon. To see the jewelry up close, check out the display in the Mets Team Store adjacent to the Jackie Robinson Rotunda near the Mets Hall of Fame & Museum at Citi Field.
"We've created something that you can wear all the time to keep your Mets close to you," said Soskil.
Every product is licensed by MLBP® 2012 and The New York Mets® organizations with the MLBP® hologram sticker and comes with a 100 percent 30-day satisfaction guarantee.
Sluggers' Jewels NYM, LLC is located at 68 South Service Road, Melville, New York, 11747. For more information, visit http://www.sluggersjewels.com or call 1-855-SLUGGERS.