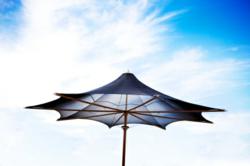 We design shade structures that not only extend, but also transform outdoor living spaces
MILAN, ITALY (PRWEB) May 01, 2012
With furniture manufacturers from around the world seeking cutting-edge innovation from big-name designers, it could have been easy to overlook a relatively small U.S. manufacturer whose chief designer began his career as a day-laborer in a Miami boat yard.
As the chief shade architect for TUUCI (The Ultimate Umbrella Company, Inc.), Dougan Clarke is leading a transformation of outdoor furnishings through inspired designs that seamlessly combine world-class aesthetics with marine-worthy performance. Leading resorts and hospitality venues are increasingly selecting TUUCI parasols for the unique experience the shade creates for their guests.
This year Clarke and his team at TUUCI debuted the company's most exquisite shade design ever, the F-1 High-Tension Shade Parasol, during the Milan Furniture Fair. With a stunning stainless steel cable system, graceful curves and expansive size, the F-1 dazzled crowds of Milan Fair attendees.
"We design shade structures that not only extend, but also transform outdoor living spaces, resulting in fresh, new, open-air living experiences," Clarke said. "Our mission at TUUCI is to create shade structures that extend the enjoyment of a day, an evening and an entire outdoor living season."
Other notable introductions from TUUCI featured at the Milan Fair were the Plantation Cantilever Sun Shade and the inspirational Stingray Shade Sculpture. Also on display was the Crescent Parasol, a signature parasol for TUUCI that features a translucent shade membrane which cascades to brilliantly polished "trillion" finials that punctuate both the beginning and end of the shade experience.
Throughout his growing body of innovative designs, Clarke has fused traditional tailoring with modern materials and contemporary shade architecture to achieve optimal form and function. His designs evoke a sense of adventure inspired by the perfect tranquility of nature, complementing any open-air environment.
In addition to the F-1, Clarke's work has produced such award winning designs as the Razor and the Zero Horizon, which is a shade platform that literally disappears into the horizon while providing abundant shade to those beneath. Perhaps the most iconic of his designs is the Manta, a sun shade parasol that was inspired by the ocean flight of the graceful Manta Ray.
About CLARKE
Dougan Clarke began his career as a day laborer in a custom boat yard in Miami. Under the tutelage of his mentor, renowned South Florida craftsman and engineer Fred Herman, Dougan learned applied materials, material sculpting, molding, canvas construction and manufacturing methods from the marine industry. Clarke has adopted these principles and processes in everything he designs for TUUCI.
About TUUCI
Since its inception 14 years ago, TUUCI has redefined the shade category with innovative shade structures. In addition to artistic beauty, TUUCI products are engineered with marine grade components that are durable and easy to operate. All shade platforms are custom-made at the Miami headquarters and are distributed worldwide through strategically located service centers. Outdoor cafés and many of the world's leading resorts and hotels have selected TUUCI because of this combination of beauty, durability and function.
Keeping the environment top of mind, TUUCI's manufacturing facility follows an Environmental Sustainability Program reducing solid waste and recycling objects from plastics to steel to fabric and beyond. With 100 percent replaceable parts, TUUCI products have an extended lifespan resulting in less waste. Follow TUUCI on Facebook, Twitter and through the company blog. On the Web at http://www.tuuci.com.