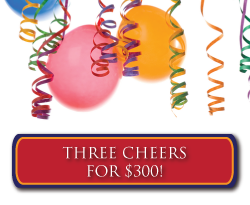 Alexandria, VA (PRWEB) May 02, 2012
CommonWealth One Federal Credit Union is pleased to announce that it reached a milestone of over $300M in assets as of March 31, 2012. This milestone was marked with a weeklong "Three Cheers for $300" celebration with its members. The highlight of the celebration was a drawing, "Three for $300". Three lucky members were randomly selected from the credit union's membership to receive a $300 deposit into their savings account.
Alyssa W., a college student from Falls Church, VA, was excited to learn she was a winner and looks forward to using the funds to support her education. Melissa S., also from Falls Church, VA, was thrilled about winning the drawing and will use the money to help pay for her upcoming wedding this spring. Like the other two winners, Beth K. from Harrisonburg, VA, was also excited about winning the drawing and plans to allocate the money to her savings.
About CommonWealth One Federal Credit Union
Since 1944, CommonWealth One Federal Credit Union, headquartered in Alexandria, VA, has grown to become one of Washington, D.C. and Northern Virginia's top credit unions with more than $300 million in assets serving more than 36,000 members. CommonWealth One is a full-service, member-owned, not-for-profit financial cooperative committed to being the lifetime financial institution of its members. It provides its members with lower fees and loan rates, plus higher savings rates. Excess earnings are returned to members in the form of higher dividend rates, lower interest rates on loans and low or no fees.
CommonWealth One has branches in downtown Washington, D.C., Alexandria, VA, and Harrisonburg, VA (one branch is located on the James Madison University campus). Members can access their accounts through Online Banking, Mobile and Text Banking, plus a network of over 4,000 shared branches and 40,000+ transaction-fee-free ATMs across the country.
For information or to open an account online, visit http://www.cofcu.org.