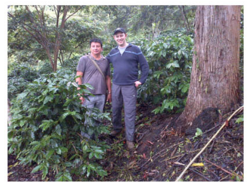 Vancouver, BC (PRWEB) May 01, 2012
May 1, 2012 (Financial Press) - The Peruvian news cycle over the last year has been dominated by major protests in revolt against mining activities. These incidences have caused mining companies, large and small, to rethink their strategy when it comes to community relations. Gone are the days of aiming to appease the government and standing behind its decisions when faced with adversity from the locals that are affected. For Inca One Resources (TSXV: IO), a new approach is being implemented that presents a giant win for both the locals and for the company's shareholders.
THE LAS HUAQUILLAS PROPERTY
Inca One entered the Peruvian fray by securing a property within the prosperous region known as Cajamarca, which already houses a mine owned by Newmont Mining that has produced 26 million ounces of gold since 1993. The Las Huaquillas property was originally prospected on in the 1970s by the Peruvian government, which included eight drill holes for 1500m, and four underground tunnels reaching four different levels that span 1.1 kms in total.
Sulliden Resources took over the property in the 1990s, and proceeded to drill over 28 more holes, adding 6500 metres and identifying what would be considered today as a historic resource. Since this work was done in the pre-Bre-X era, the resource isn't compliant by today's standards, but what they unearthed was quite interesting.
Over a width of 20 metres, and with an average cutoff of 1.5 g/t and 2.09 g/t gold and 25.2 g/t silver, factoring in approximately 6.5 million tons, Sulliden was able to calculate a resource of 600,000 ounces of gold equivalent (443 ounces of gold and 5.3 million ounces of silver). On top of the drilling, some valuable exploration and surface work was done, that would identify that there was more to the 500 metres that was previously worked upon by the Peruvian Government. The 500 metres previously identified was later found to be extended along strike, to the tune of a total of 2.2 kms, adding 1.7kms to the total package. As well, Sulliden identified two copper porphyries to the north and south of the Los Socavones property within the Las Huaquillas.
Though Sulliden saw many promising attributes within the property, the timing for the company was less than ideal. At the time, much of the investment dollars typically funneled into the junior mining sector was being diverted away by the DotCom boom. As well, gold was only trading between $250-$300, thus leaving the door open to future development.
There is still plenty of blue sky on the property, as there will be a requirement to drill the remaining 1.7 km along strike. As well, Inca One has identified another gold epithermal system very similar to Los Socavones that warrants further exploration work. Of the work that was done on the Los Socavones, the previous drill holes were done to a depth of only 200 metres, whereas typically these kinds of systems are mineralized to 350m-400m. En route to developing a 43-101 compliant resource, Inca One is going to want to drill it out and find out what they really have there.
This is particularly a property of interest to Director and Chief Geologist Thomas Henricksen, who has been eyeing this property for many years, having tried to acquire it on three previous occasions with different companies. Now with Inca One having secured the Las Huaquillas, it's time for Henricksen and the company to really see what they've got.
INVESTING IN PERU
Despite the shaky news cycle, the potential for future production in Peru is massive. The country is currently the world's second largest producer of silver, third largest copper and zinc producer, and the sixth largest gold producer. But it's impossible to ignore the community relations issues that come with mining in Peru. The highest profile company experiencing these types of issues is Newmont. Their experiences are pertinent to the Inca One story, in that Newmont's disputed Conga property is also located in the Cajamarca region. Problems arose when the local population lost confidence in the environmental impact study and felt there was a lack of attention towards residents.
Inca One's strategic approach to any foreseeable events such as what Newmont has encountered is quite innovative and could possibly provide the breakthrough needed to bridge the gap between producers and locals.
THE COFFEE APPROACH
Since 2008, it has been required by law in Peru to have proper consultation with the surrounding communities. Understandably, baseline and environmental studies are required prior to getting to work. When Inca One began their baseline study last November, they identified that the residents nearby were primarily coffee farmers. Despite the fact that they were landowners and small business owners, its was apparent to Inca One's management that these people were quite poor and in need of some aid to make lives better for themselves.
As part of the negotiations with the vendors of the Las Huaquillas package, Inca One promised a win-win scenario that came away with positives not only for the vendors and Inca One's shareholders, but for the locals themselves. The starting point was quite poor, as many of the residents did not have running water or electricity coming through their properties.
Fortunately enough, Inca One's President and CEO, Edward Kelly, has former ties to the coffee industry through the connections he made while connected with the Blenz Coffee franchise. At first glance, Kelly could see that much of the locals' problems laid from their lack of distribution channels, as only a portion of their supplies were being shipped to places like North America and Europe. The bulk of their coffee was being dumped by wholesalers into Colombia which itself has more distribution for coffee than Peru. By expanding the distribution channels, the locals could receive higher prices for their coffee, and in return be happier to deal with when approaching future exploration work.
But, on top of the pricing, Kelly noticed that these coffee farmers were also suffering from lack of expertise and were failing their own crops' potential. Industry standard yields for these types of coffee farms are between 50-60 sacks of coffee per hectare (counting 52 kilograms per sack). These farmers were only producing around 11 sacks of coffee per hectare, seeing yields of less than 25% of their potential.
So, instead of just throwing money at the locals, and creating jealous neighbours around them, Inca One decided to take the empowerment approach, enhancing the lifestyles of the locals through restructuring their businesses for efficiency. Initial studies found that there were 100 direct-area influencers, and an additional 700 indirect-area influencers. Companies that seek to only address the direct area individuals can have big problems on their hands later on, so Inca One included all 800 when factoring its plan, and believes that it can be done frugally. The company enlisted the help of a coffee co-op, through which money will be channeled into the enhancement of these local farms, and ideally tripling their incomes and yields to bring up the lifestyle of the entire community.
Through coffee and forward thinking community relations, much of the risk is mitigated, potentially allowing Inca One to work freely, at least for the next three years. This is the amount of time that it takes for the strategic improvements to these coffee operations to take place, and hopefully for Inca One, is enough time to get the bulk of their exploration work completed.
THE BOTTOM LINE
Inca One has plenty of blue sky going forward, and the room to work safely to achieve their goals. By essentially insuring a three-year grace period, free from the threat of operational disruptions, Inca One seems to have cracked the Peruvian community relations code.
With country risk properly mitigated, we can look at the essentials in terms that we are used to with exploration companies. Inca One is poised to bring the Los Socavones property to a 43-101 compliant resource. The original calculation of 600,000 ounces of gold equivalency was done on only 500 metres of strike, whereas it's been identified that mineralization extends 2.2 kilometres along strike. So, 2012 will involve drilling to bring the resource to modern day compliance, while also increasing the resource through the additional 1.7km of mineralization that will be explored over the year. On top of the gold and silver properties, there is also still the upside that two copper porphyries to the north and south of Los Socavones provide. Look to those being further developed in 2013.
As witnessed with the handling of the coffee farmers, Inca One is led by a doer in Edward Kelly, while being staffed with a highly capable board with valuable international geological expertise. The team is quite active on the ground in Peru, making sure that the property is moved forward, while also presenting a win-win situation with the locals.
Lastly, the company is still tightly held with a sound share structure of 28 million shares, 43% of which is held by management. Among the players within the Cajamarca Region, Inca One is at an ideal stage of growth in a district with high rewards for those that properly maneuver the local challenges.
Legal Disclaimer/Disclosure: A fee has been paid for the production and distribution of this Report. This document is not and should not be construed as an offer to sell or the solicitation of an offer to purchase or subscribe for any investment. No information in this Report should be construed as individualized investment advice. A licensed financial advisor should be consulted prior to making any investment decision. The Bottom Line Report makes no guarantee, representation or warranty and accepts no responsibility or liability as to its accuracy or completeness. Expressions of opinion are those of the Bottom Line Report only and are subject to change without notice. The Bottom Line Report assumes no warranty, liability or guarantee for the current relevance, correctness or completeness of any information provided within this Report and will not be held liable for the consequence of reliance upon any opinion or statement contained herein or any omission. Furthermore, we assume no liability for any direct or indirect loss or damage or, in particular, for lost profit, which you may incur as a result of the use and existence of the information, provided within this Report.
The Bottom Line Report
The Bottom Line Report is an investor newsletter focusing on Canadian public companies in Mining, Energy and Green market sectors. The report highlights specific TSX and TSX Vernture juniors and gives investors insight into specific corporate initiatives while shedding light on the relevance to the overall industry.