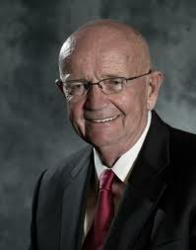 Lexington, Virginia (PRWEB) May 03, 2012
Gen. Gordon R. Sullivan, USA (Ret.) will receive the Andrew J. Goodpaster Award at a luncheon in Washington on May 30 at the U.S. Chamber of Commerce.
Gen. Sullivan will be honored for his distinguished career in the U.S. Army that he concluded as the 32nd Chief of Staff and a member of the Joint Chiefs of Staff and for his leadership of AUSA (Association of the United States Army).
During his Army career, Gen. Sullivan also served as Vice Chief of Staff; Deputy Chief of Staff for Operations and Plans; Commanding General, 1st Infantry Division (Mechanized), Fort Riley, Kansas; Deputy Commandant, U.S. Army Command and General Staff College and Assistant Commandant, U.S. Army Armor School, Fort Knox, Kentucky. His overseas assignments included four tours in Europe, two in Vietnam and one in Korea.
He is the co-author of Hope Is Not a Method, which chronicles the enormous challenges encountered in transforming the post-Cold War Army. He serves on the boards of several major corporations. He is chairman of the Board of Trustees of Norwich University, his alma mater; a director of the Institute of Defense Analyses, and a member of the Council of Advisors of the Marshall Foundation. General Sullivan has been President and COO of AUSA since 1998.
The Andrew J. Goodpaster Award honors the life and service of General Andrew J. Goodpaster, a longtime trustee and chairman of the Foundation, a champion of the Marshall legacy, an American hero and an extraordinary public servant. The Andrew J. Goodpaster Award is presented to Americans in a variety of fields who, like General Goodpaster, have exhibited great courage, selfless service, patriotism and leadership in their lives and careers.
The private and independent George C. Marshall Foundation, located in Lexington, Virginia, celebrates the example of George C. Marshall, Army Chief of Staff during WWII, Secretary of State and Secretary of Defense. With its museum, research library, and archives, the independent Marshall Foundation is the place where the values that shaped and motivated Marshall are kept alive. The Foundation perpetuates Marshall's exemplary character and extraordinary accomplishments through its leadership, scholarship, statesmanship, and international programs.
For more information go to http://www.marshallfoundation.org
or call Rick Drake at 540-460-0723