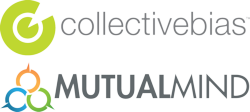 This partnership is the beginning of a long-awaited solution for brands engaging in traditional social media monitoring to connect social media postings and shopper media insights with in-store activity and net sales growth
Bentonville, Ark. and Dallas, Texas (PRWEB) May 01, 2012
Collective Bias, LLC, a leading social shopper media company based in Bentonville, Arkansas, and MutualMind, Inc., an award-winning social media technology firm based in Dallas, Texas, entered into an OEM/Technology Integration Partnership producing the next generation social community-based analytics and engagement platform for global brands and retailers.
"The key to harnessing the power of social media for brands is to figure out how to optimize interaction with social communities and tie results to sales data," said Casey Petersen, Director of Social Media Analytics of Collective Bias. "This partnership is the beginning of a long-awaited solution for brands engaging in traditional social media monitoring to connect social media postings and shopper media insights with in-store activity and net sales growth."
MutualMind is a highly scalable social media analytics platform that enables service providers, on behalf of global brands, to have the ability to monitor and analyze social conversations for sentiment and other factors. The platform goes beyond complex sentiment analysis by integrating a complete social analyst workflow management capability that enables analyst engagement, content publishing, social conversation tracking and task management.
Collective Bias and MutualMind have jointly developed a social shopping platform that gives product and retail brands an easy way to track the ROI of syndicate engaging, community-produced social media campaigns across all social properties including social networking sites, web sites and blogger community sites. In its current state, clients receive access to a customized dashboard to monitor engagement, social conversation, share of voice and sentiment, and to compare their performance versus competitors.
"Our fully integrated social shopper analytics and engagement platform allows clients to track and monitor sales data against both traditional and community-based social media activity," said Babar Bhatti, MutualMind Co-founder and CEO. "With Collective Bias' unique presence in social shopper media, combining our core strengths will also give brands an unprecedented level of insight into their customers and easy-to-use tools for building long-term relationships with their online advocates."
About Collective Bias
Collective Bias™ drives retail sales through the coordinated creation of social media stories. Its Social Fabric® influencers connect with the brands and retailers they use in their daily lives to drive conversations on a wide variety of social media platforms. Their stories build consumer engagement and brand loyalty, ultimately leading to sales conversion. For more information, visit http://www.collectivebias.com.
About MututalMind
MutualMind is a social media management and intelligence platform that enables businesses to monitor as well as promote brands and optimize customer relationships on social networks while providing actionable analytics and insights to increase social media ROI. The functionality of this platform can be used for a number of business applications including: measuring market receptivity to products or services, tracking consumer sentiment, reputation/crisis management, generating sales leads, benchmarking versus competitors, and customer relationship management, to name a few. MutualMind, Inc., an IBM Business Partner and Alcatel Lucent ng Connect Program Member, is privately held and based at the ng Connect Innovation Center located in Plano (North Dallas), Texas. For more information, visit http://www.mutualmind.com.
###