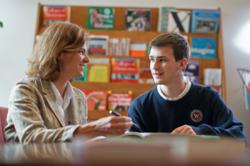 In terms of the approach, our goal is to find the right fit for each of our students. It is a very personalized process
Sandy, Utah (PRWEB) May 01, 2012
The Waterford School recently released its college admissions statistics for the 2012 graduating class. One hundred percent of Waterford's Class of 2012 has been accepted to four-year colleges or universities. Over the past 5 years, Waterford students have matriculated to 95 different colleges and universities.
A recent New York Times article cited the extremely competitive world of college admissions, noting that many Ivy League and other highly selective colleges and universities have acceptance levels at less than 8 percent. http://thechoice.blogs.nytimes.com/2012/04/16/college-admits-2012/#
In this competitive environment, students benefit from the support of college counseling professionals. Waterford students begin working with experienced college counselors in ninth grade. Through the course of their high school years, students have the opportunity to meet with 35-40 visiting college representatives per year. This enables students to have a broad and far reaching understanding about varied college and university programs. Waterford students apply on average to between 5 and 7 colleges or universities and approximately 60 percent of Waterford graduates attend out of state schools.
"The most important element to the college admissions process is the work students have done in terms of long-term academic preparation. Waterford is a true preparatory school. Waterford students are well-prepared, ready to write and communicate at a high level and take rigorous courses in every discipline", said Sari Rauscher, Director of Waterford's College Counseling Department. "In terms of the approach, our goal is to find the right fit for each of our students. It is a very personalized process."
According to the most recent National Educational Longitudinal Study (NELS) conducted by the National Center for Educational Statistics (NCES), independent/private school graduates lead the country in post-secondary achievement. Approximately 80 percent of students who graduate from independent schools complete a four-year college degree or higher, versus 40 percent of public high school graduates.
The Waterford School is a private, liberal arts college-preparatory school located in Sandy, Utah, for students in preschool through grade 12. For more information visit http://www.waterfordschool.org.
Waterford School Class of 2012 College Acceptances:
University of Arizona
Bard College (NY)
Barnard College (NY)
Bates College (ME)
Beloit College (WI)
Boston University
Brandeis University (MA)
Brigham Young University
Bryn Mawr College (PA)
Bucknell University (PA)
University of California—Berkeley
University of California—Los Angeles
University of California—San Diego
University of California—Santa Barbara
University of California—Santa Cruz
California Institute of the Arts
Carnegie Mellon University (PA)
Chapman University (CA)
Clemson University (SC)
University of Colorado—Boulder
Colorado School of Mines
Columbia College (IA)
Columbia University (NY)
Connecticut College
Duke University (NC)
Emerson College (MA)
Emory University (GA)
Evergreen State College (WA)
Franklin & Marshall College (PA)
Hendrix College (AR)
Hofstra University (NY)
Ithaca College (NY)
Kenyon College (OH)
Loyola Marymount College (CA)
Maryland Institute College of Art (MICA)
University of Miami
University of Nevada-Las Vegas
New York University
Occidental College (CA)
Parsons The New School for Design (NY)
University of Portland (OR)
University of Puget Sound (WA)
Reed College (OR)
Rice University (TX)
San Francisco Art Institute
School of the Art Institute of Chicago
School of the Museum of Fine Arts-Boston
Seattle University
Skidmore College (NY)
Snow College (UT)
Southern Oregon University
University of Southern California
Stanford University (CA)
SUNY-Albany
Swarthmore College (PA)
Trine University (IN)
Tufts University (MA)
Union College (NY)
U.S. Air Force Academy (CO)
U.S. Merchant Marine Academy (NY)
Utah State University
University of Utah
Vanderbilt University (TN)
Vassar College (NY)
University of Vermont
University of Virginia
Washington University in St. Louis
University of Washington
Wellesley College (MA)
Westminster College
Wheaton College (MA)
Whitman College (WA)
Willamette University (OR)