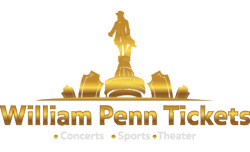 "William Penn Tickets is offering premium seating availability for all the home games."
Philadelphia, PA (PRWEB) May 28, 2012
William Penn Tickets is a private ticket agency that announced new protected and secured transactions on every purchase on the website. They are not affiliated nor licensed with any box office, venue, stadium, or Ticketmaster. They are able to provide availability of tickets or event access through various contacts and sources. They are proud to announce American Express guaranteed fraud protection service. This helps to enhance customer's confidence on William Penn Tickets Agency.
Spokesperson of William Penn Tickets Agency stated, "We are glad to offer Philadelphia Tickets for concerts, sports and other events with American Express assured fraud protection. It means you can rely on our service to enjoy events in different part of your city such as Wells Fargo Center formally known as Wachovia Center and other places. You can have Concert Tickets Phillies, Citizens Bank Park Tickets, Eagles Tickets in Philadelphia and many more tickets at our agency. Our long proven track record is enough for your hundred percent confidence. We make every effort for achieving complete customer satisfaction."
William Penn Tickets Agency are well known for their quick delivery and best customer care service. They arrange tickets for all major concerts, sports and family events such as Concert Tickets Philly, Eagles Tickets Philadelphia, Citizens Bank Park Tickets. Customers can have guaranteed tickets for events at any part of Philadelphia such as Wells Fargo Center and elsewhere. Wells Fargo Center earlier known as Wachovia Center. Their Philadelphia Tickets are priced little higher than the face value of the tickets and do reflect the effort, difficulty and costs of obtaining those tickets.
For the past 50 years, William Penn Ticket Agency has been providing premium ticket needs for sporting evens, theater and concerts throughout the country. Throughout that time they have built long-term relationships with customers locally and nationally. They offer tickets for a broad spectrum of events and can accommodate requests for large or small orders.
To know more visit http://www.williampenntickets.com.