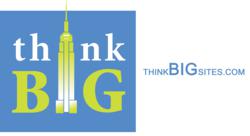 Our clients have spoken, we've heard them loud and clear and we've delivered once again.
Northport, NY (PRWEB) May 01, 2012
Today, ThinkBIGsites unveiled their latest innovation, coined Social Search Optimization (SSO), which they consider to be an absolute "game changer". Developed to help clients improve their overall online visibility, this well thought out fusion of high level SEO and expert Social Media Marketing, both working in concert has proven to quickly increase targeted web traffic that converts at a very high percentage. This revolutionary, blended strategy now allows ThinkBIG to effectively harness the immense power of both giants, Google and Facebook working in tandem which gives clients a very robust, one two punch in this ever changing, ultra competitive market place.
Far too many companies of all types and sizes continue to wrestle with the persistent dilemma of trying to simultaneously engage in both SEO and Social Media marketing strategies without breaking the bank. Today, ThinkBIG has effectively put that costly and incessant dilemma to rest once and for all!
Because of the advanced vision of Co-Founder and Managing Partner Marc Arner, better known internally as "the architect", ThinkBIG has consistently developed numerous, value added solutions that have routinely proven to be light years ahead of the vast majority of strategies employed throughout the industry.
"In our continuing effort to create leading edge internet marketing strategies that work, we strategize endlessly in daily think tank sessions to develop and cultivate new ideas that will help our clients drive more web traffic and increase their online sales. Our clients have spoken, we've heard them loud and clear and we've delivered once again", said VP Client Relations, Andy Arner.
Industry experts believe that this new, ground breaking SSO strategy and its designer, Marc Arner will receive well deserved attention and admiration in the weeks and months to come. This is what website owners and marketing managers the world over have been craving for many years and now it's here.
ThinkBIGsites is a full service internet marketing firm specializing in driving targeted web traffic through expert Search Engine Optimization (SEO), Social Search Optimization (SSO) and Pay Per Click Bid Mgt strategies. For more information about ThinkBIGsites, visit their website at http://www.thinkbigsites.com, or on Facebook at http://www.facebook.com/thinkbigsites.