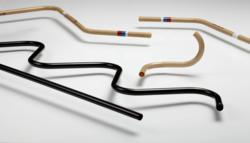 Because they are lightweight, durable, exceptionally strong, chemically resistant, and inherently flame retardant, Victrex polymers have been used in the Aerospace industry for years
Hofheim/Taunus, Germany (PRWEB) May 01, 2012
Aircraft manufacturers are driven by the need to design the most lightweight and fuel-efficient aircraft possible while reducing overall manufacturing costs. PFW Aerospace AG, a world market leader in aerospace tubing systems, and Victrex developed and qualified a novel VICTREX® PEEK polymer-based pipe system for the cargo drainage system on the Airbus A350 XWB. Due to the use of lightweight, thin-wall VICTREX Pipes™, the innovative pipe system is 33% lighter and is the first viable alternative to metal tubing introduced to the aerospace market. Victrex will showcase the Airbus qualified VICTREX Pipes along with other solutions to replace metals and reduce weight in the design of commercial aircraft in booth #107 at the upcoming SAMPE Show in Baltimore, Maryland on May 21 to 24, 2012.
"PFW Aerospace has been supplying metal tubing to the aerospace industry for nearly 100 years," said Mr. Rupert Kästel, Vice President Sales and Marketing, PFW Aerospace AG. "Given the increasing demands to reduce weight, we needed to identify alternatives to metal. We worked closely with Victrex for more than three years involving them in every stage of the product development phase through to the qualification. Together, we have successfully delivered an alternative to metal tubing and a next generation solution for commercial aircraft."
PFW's cargo drainage system consisted previously of metal tubing and connectors for draining condensed water from the cargo hold. The new VICTREX PEEK system includes pipe and fittings made of a polymer material solution. A typical straight 1" PEEK pipe with an outer diameter OD 25.4 mm and 1 mm wall thickness weighs only 100 grams per meter without fittings, offering a weight reduction of up to 60% compared to an equivalent stainless steel straight pipe.
"VICTREX Pipes are robust, easy to install, have good vibration and dampening properties and offer a high degree of design freedom with the ability to be bent and formed," said Frank Schemm, European Pipe Market Leader, Victrex Polymer Solutions. "It is exciting for us to now have Victrex formally recognized as a supplier of straight PEEK pipes offering engineers and designers in the aerospace industry another option to achieve weight savings while satisfying the most stringent safety, quality and performance regulations."
Because they are lightweight, durable, exceptionally strong, chemically resistant, and inherently flame retardant, VICTREX PEEK polymers have been widely used in the aerospace industry for years.
For more information about VICTREX Pipes visit http://www.victrexpipes.com, for more information about Victrex visit the company's website at http://www.victrex.com.
About Victrex
Headquartered in the UK, Victrex Polymer Solutions, a division of Victrex plc, is the world's leading manufacturer of high performance polyaryletherketones such as VICTREX® PEEK polymer, VICOTE® Coatings, APTIV® films and VICTREX Pipes™. These materials are used in a variety of markets and offer an exceptional combination of properties to help OEMs, designers and processors reach new levels of cost savings, quality, and performance. All Victrex material production comes under Victrex's ISO 9001:2008 quality registration.
VICTREX® is a registered trademark of Victrex Manufacturing Limited in the US, European Community and elsewhere. VICTREX Pipes™ is a trademark of Victrex Manufacturing Limited. PEEK-ESD™, HT™, ST™ and WG™ are trademarks of Victrex plc. VICOTE® and APTIV® are registered trademarks of Victrex plc in the US, European Community and elsewhere.
About PFW Aerospace AG
Located in Speyer, Germany, PFW Aerospace AG is a world market leader for aerospace tubing systems. The product portfolio includes structural components and cargo loading systems as well as additional center tanks and engineering services and employs a staff of 2200 people worldwide. For more information visit http://www.pfw.aero.