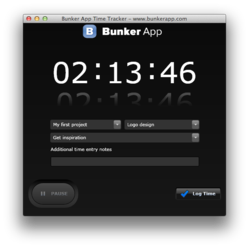 Finally! An online business suite for today's freelancers
Blainville, Quebec (PRWEB) May 02, 2012
As a solo freelancer wanting online software, do you go for free but amateur-looking products or splash out on expensive and specialized services? A new low-cost service from the co-developer of twollow.com aims to bridge the gap between those extremes with a complete freelancing suite.
For larger companies it is becoming a smart choice to use "Software as a Service" (SaaS) because on a large scale it becomes an easy, secure and accessible alternative to installing and maintaining their own software. For those companies it is also vastly cheaper than staffing and equipping a large IT department but for a single freelancer it's just too expensive.
SaaS costs can soon mount up, with most SaaS providers offering a single service such as sending invoices or maintaining a contact list. When you have a handful of different providers at $20, $30 or even $50 each per month you can easily exceed $100 in costs, even if you're not getting any customers.
Company founder Dominic St-Pierre has considerable experience as a freelancer, with his best-known venture being the re-development of the popular Twitter application 'Twollow'. He said "My aim is to provide freelancers such as graphic artists or consultants with the security and accessibility you expect from SaaS but without the 'cheap seats' feeling you get with the free services."
The online computing power of the service is provided by a special section of Amazon.com, the massive online retailer. Amazon powers many of the world's SaaS companies.
The software suite is called Bunker App and includes most freelancer software, such as project management, sending impressive invoices or a to-do list, all from one control panel and with a total cost of under $10 per month.
"None of the services are revolutionary by themselves, what is unique is the whole system is geared to be useful and affordable to the sole-trading professional. Further, we make three very special promises to our customers, removing the usual worries about using online software." said St-Pierre.
For additional information on the Bunker suite, contact Dominic St-Pierre or visit http://www.bunkerapp.com. A free trial - without the need for a credit card - is available.
ABOUT FOCUS CENTRIC INC – This Canadian-based (Blainville, Quebec) company was started in 2007 and has produced a number of niche software products, including re-development of twollow.com.