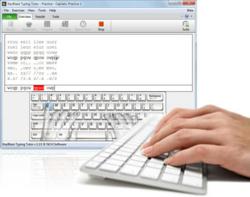 Games are an effective teaching tool, but they have to be fun to be successful. That's why every element of the KeyBlaze typing game is focused not only on improving an aspect of typing, but on making it fun and challenging too.
Denver, CO (PRWEB) May 02, 2012
NCH Software, a leader in affordable, easy-to-use audio, video, business and software utilities, announced the updated release of their KeyBlaze typing tutor software today. This new version of KeyBlaze is geared towards user growth with expanded features that cater to all skill levels, while encouraging users to challenge themselves for better typing speed, accuracy and consistency.
The most significant change to KeyBlaze is the increase in lessons and exercises. Fifty new keyboard lessons and more than forty new exercises have been added. These additions vary in content ranging from legal, engineering and medical field texts, to poetry and prose exercises of various lengths and difficulty levels.
"The additional typing lessons give the typist more control over their own lesson path, allowing them to specialize their learning in areas that will be interesting or the most useful for their goals," states Tim McLaughlin, Software Product Manager for KeyBlaze. "This will effectively allow students to improve typing skills in a shorter amount of time."
In addition to the lessons and exercises, KeyBlaze includes Word Blizzard, a typing game that has been going through progressive changes to make it more interactive, challenging and fun for the typist. Games are an effective teaching tool, but they have to be fun in order to teach, and every element of the gameplay in Word Blizzard is focused on improving an aspect of typing—while you're having fun. In the game, words fall from the sky and as the player successfully types in the words, they begin to increase in difficulty and speed. The user can utilize bonus words and snowman bombs to increase their score.
Still more improvements are planned to increase the level of fun in learning to type, including a second typing game expected to be released in the second quarter.
About NCH Software
NCH Software offers more than 80 easy-to-use software applications for audio, video, business, dictation and other software utilities. Individual programs fulfill specific needs and solidly integrate with related products, improving productivity for small businesses and consumers alike. By offering such a wide breadth of software applications at affordable prices, NCH Software is where users turn for reliable software applications for any need. This approach generates over seven million unique visitors and three million software downloads per month from the company's website – http://www.nchsoftware.com.