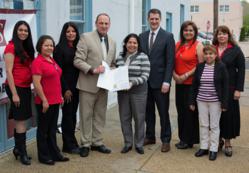 Centers like this are so vital to the community because they help improve the health and wellbeing of the residents.
Bridgeton, New Jersey (PRWEB) May 01, 2012
New Jersey's Department of Health Deputy Commissioner, Dr. Arturo Brito, visited the Center for Human Services (CHS) office in Bridgeton on Thursday, April 26th to attend CHS's health fair organized in honor of National Minority Health Month. The fair, called Igualidad en la Salud Para Todos-Health Equity For All, catered to minority populations who are disproportionately affected by health issues.
Dr. Brito, a pediatrician with a public health background and a special interest in minority health issues, commended CHS's Bridgeton center on its work and presented a proclamation from New Jersey Governor Chris Christie declaring April Minority and Multicultural Month.
Dr. Brito said: "Centers like this are so vital to the community because they help improve the health and wellbeing of the residents. The programs delivered here are so comprehensive, addressing education, health, and social issues, and are also delivered with so much professionalism, passion and caring. We're happy to support the work of Center for Human Services."
About 200 people participated in the CHS fair and learned about blood sugar screening, flu vaccinations for high risk populations, high blood pressure testing, domestic violence prevention, and the community food bank. The Bridgeton Center manages several programs that cater aim to improve health, education, and wellbeing, including the Reducing Diabetes Disparities project which is provided with generous support from the NJ Department of Health.
Louis Marino, the Senior Manager for the CHS Bridgeton Center, said: "This health fair is intended to celebrate National Minority Health Month and to demonstrate, in collaboration with other non-profit organizations in our community, our commitment to promoting health equity and improving the quality of life for individuals in Cumberland County."
Cumberland County is one of the poorest in the state of New Jersey and is home to many minorities, including African-Americans, Hispanics, and migrant farm workers, all disproportionately affected by health problems. CHS works with many other groups in Bridgeton to address their needs.
About the Center for Human Services: For over 40 years, the Center for Human Services (CHS) and its for-profit affiliate, University Research Co., LLC (URC) have focused on improving the quality of and access to health, social, educational and vocational services in the U.S. and abroad. URC and CHS U.S. programs seek to improve the quality of life, access to social and health services, and the educational and vocational achievements of underserved populations throughout the United States and abroad.