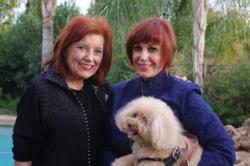 Hayes is officially expanding her popular, permanent makeup business from the West Coast into a Permanent Makeup New York setting just as Roper prepared her she would.
Scottsdale, AZ (PRWEB) May 01, 2012
The future is here now…again…for permanent makeup expert, Sally Hayes. Her longtime spiritual advisor, Janice Roper, of Scottsdale, Arizona, has forecast it…again. This time it is about Hayes expanding her permanent makeup business to New York.
Back in 1982, Roper walked in to Hayes' Scottsdale salon to get a broken nail fixed. Not long after, she pointed a finger at Hayes warning her she would be selling her popular, high-end salon to begin a great, new career. Now starting in May, Hayes is officially expanding her popular, permanent makeup business from the West Coast into a Permanent Makeup New York setting just as Roper prepared her she would.
"When I met Janice I had just sunk over $100,000 into renovating my salon," said Hayes. "Soon after she told me I would flying over mountains to talk to a group of doctors and it would be part of a greater, more rewarding career which would totally change my world. I thought she was crazy. But she was right.
Recently, she advised me I would expand into New York City with great success. While I absolutely love New York, I thought I was content out west. It turns out through an interesting chain of events, Janice's guidance was right on the money again."
Over a 25-year career which began with flying over mountains for permanent makeup training with plastic surgeons, Hayes has successfully done tens of thousands of procedures of permanent eyeliner, permanent eyebrows, permanent lip makeup, and camouflage permanent makeup for cosmetic conditions such as facelift scars and areolas. She had been based primarily in Scottsdale, Arizona, with additional permanent makeup locations in Las Vegas and Los Angeles. But now she heads east to take her skills, experience, and service to a Permanent Makeup New York location in Lower Manhattan's chic, exclusive neighborhood where actor Robert DeNiro, and many other celebrities faces are visible, Tribeca.
As a longtime trusted advisor of Hayes and people around the world, Janice Roper follows and interprets signs for the future in a unique way. She taps into a person's energy by blending the ancient art of reading tea leaves with another ancient practice, astrology. "The energy is always present for every person," says Roper, "but Sally's energy and purpose driven life to serve others is so powerful, the symbols and messages come through with great clarity."
Today, permanent makeup is a very popular service with women who lead active lifestyles because of the convenience and long lasting value it offers. Many see wearing makeup as a necessity in their professional and personal lives. In being judged on their appearance day or night, looking good without embarrassing smudges, smears, or run-offs is an attractive option for women. "What woman doesn't want to look and feel more confident, youthful, and save time and hassle every day?," said Hayes. "Talk about seeing a bright future in the mirror for years to come. Permanent makeup gives it to you."
About Sally Hayes Permanent Makeup
Sally Hayes is the permanent makeup industry's leading expert artist. She is referred and endorsed by many of the country's top cosmetic surgeons, and has successfully performed tens of thousands of permanent makeup procedures as a full-time permanent makeup artist since 1988. Her popular website is seen as the leading online authority on permanent makeup.
For more information, visit http://www.permanentmakeup.com.