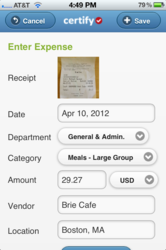 We are proud to demonstrate a true HTML5 app with a single code base across all platforms
Portland, Maine (PRWEB) May 01, 2012
Certify, a leading online travel and expense management company, today launched a new mobile application called Certify Mobile. Built using HTML5 and the latest technology advancements, Certify Mobile offers an intuitive user experience that is identical across all supported platforms. Supported platforms include Apple iOS for iPhone and iPad devices, Android phones and tablets, BlackBerry devices and Windows Phone 7. The new application allows users to fully manage receipts and expenses in their Certify Wallet, including all expense detail data elements. The new Certify Mobile application works with all Certify offerings, which include Certify Enterprise, Certify On Demand, and free Certify Single User accounts.
"We are excited to once again set the bar among travel and expense vendors with this new mobile offering," said Robert Neveu, President of Certify. "Our clients have come to expect Certify to outshine the competition in every aspect of feature and functionality, and our new mobile application continues in that tradition."
Among the expanded and complete expense data elements available in the new Certify Mobile are E-folio data elements such as hotel check-in and check-out dates, mileage details, airfare from and to locations, detailed meals attendees, expense vendor and location, and custom fields such as client, project, cost center, and more. Furthermore, businesses using Certify's NPI integration for Sunshine Act compliance and transparency initiatives can use Certify Mobile to search for and select physicians from the official NPI database, even while in the field.
"From the technical standpoint, the new Certify Mobile represents a real achievement," said Alan Neveu, Chief Technology Officer of Certify. "Many companies still only dream of making the leap to HTML5. We are proud to demonstrate a true HTML5 app with a single code base across all platforms, which will enable us to add more advanced functionality without increasing complexity. The shift from the web to mobile is happening faster than anyone predicted it would, and we are glad to be on the cutting edge of that shift with Certify Mobile."
The new Certify Mobile can be downloaded and installed from the mobile application store of each supported platform, as well as from the Certify web site. The older Certify Wallet mobile application is still supported and remains an excellent choice for older devices that do not fully support HTML5.
About Certify
Certify, LLC, is an online travel and expense management company that provides expense report and travel booking solutions to corporations and individuals. The company provides a true SaaS on-demand travel and expense management solution which is easy to use, quick to deploy and affordably priced for clients of all sizes. Certify was founded in 2008, and is headquartered in Portland, Maine. For more information about Certify please call 207.773.6100 or visit http://www.Certify.com.