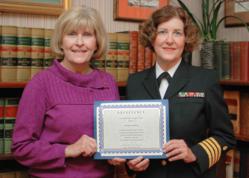 Colorado Springs, CO (PRWEB) May 02, 2012
Retired Navy nurse captain and co-author of The Pregnancy Power Workbook, Camilla Bicknell was recently honored by the Navy Nurse Corps Association (NNCA) with its 2012 Professional Nursing Award.
The Professional Nursing Award was established to recognize significant contributions to nursing service, nursing practice, history, or research that brings honor or recognition to the Navy Nurse Corps or the Navy Nurse Corps Association. It was first awarded in 1996. It is a biennial awards cycle and Camilla Bicknell is the ninth NNCA member to receive the honor.
"The Navy Nurse Corps Association (NNCA) Professional Nursing Award recognizes significant contributions to nursing that bring honor to the Navy Nurse Corps," said Mary Anne Gardner, Chair of the NNCA Awards Committee. Camilla Bicknell's career, both in the Navy and in the civilian world, has been full of professionalism, integrity, inspiration and success. She is the ideal candidate to receive the Professional Nursing Award for 2012."
After serving on active duty at four duty stations from 1976-1986, Ms. Bicknell continued her military career for 22 additional years as the Commanding Officer and Training Officer for several medical reserve units. Now, for nearly 18 years, the award recipient has worked as a Women's Health Nurse Practitioner at Peak Vista Community Health Centers in Colorado Springs, Colo. There, she is committed to improving lives by providing care for pregnant woman.
Among Ms. Bicknell's contributions to her craft and accomplishments is The Pregnancy Power Workbook: Featuring 200 most important questions to ask about your pregnancy. She co-authored the book with Dr. Jim Betoni with the mission of answering important questions in a straightforward, step-by-step manner that empowers the pregnant woman and prepares her for the best pregnancy possible.
"I want to thank The Navy Nurse Corps Association for this wonderful honor," said Camilla "Empowering women during their pregnancies has been my professional mission since I began my nursing career over 35-years ago and this recognition is a wonderful tribute. I will cherish this award and work very hard to be a positive representative of NNCA and the Navy nursing community."