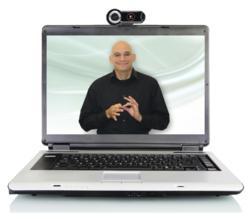 As an established Over-the-Phone Interpretation provider operating US-based contact centers, CyraCom International has been able to train its current interpreter employees for video interpretation in house, maintaining quality standards
Tucson, AZ (PRWEB) May 01, 2012
CyraCom International, Inc. today announced the release of its new on-demand Video Remote Interpretation (VRI) service, available to clients in 11 high-demand languages, including American Sign Language (ASL).
CyraCom clients can instantly connect to a qualified medial interpreter by using any web browser to access its high-quality video conferences. The benefits of CyraCom's VRI solution include:

Having 24/7 access to nationally certified (RID) ASL interpreters with 5+ years of interpreting experience
Visually connecting with spoken-language interpreters enabling them to see non-verbal communication cues
Improving access to healthcare for non-English speaking patients especially in remote areas
Providing video access through a secured, encrypted connection
Meeting HIPAA compliance, as calls are handled in secure contact centers
Potential cost-savings when used instead of an on-site interpreter
"Today's healthcare organizations are viewing language services as an essential part of the patient care process," said Jeremy Woan, Chairman and CEO of CyraCom International, Inc. "Video Remote Interpretation effectively combines technology with interpretation to provide an efficient and cost-effective service."
As an established Over-the-Phone Interpretation provider operating US-based contact centers, CyraCom International has been able to train its current interpreter employees for video interpretation in house, maintaining quality standards and maximizing efficiency.
About CyraCom
CyraCom provides innovative language solutions for healthcare, including Over-the-Phone Interpretation, Video Remote Interpretation, Translation and Localization, and On-Site Interpretation to over 1,800 healthcare clients. The company is exclusively endorsed by the American Hospital Association for its interpretation and translation solutions and is ISO 9001:2008 quality certified.
For more information, visit http://www.cyracom.com or call (800) 713-4950 ext. 1.