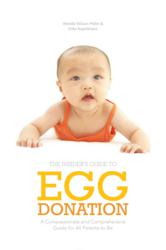 "The Insider's Guide to Egg Donation is the ultimate handbook for everyone considering this unique option for family building."—Dr. Guy E. Ringler, MD, Ob-GYN, California Fertility Partners
New York, NY (PRWEB) May 30, 2012
Each year, over 7.3 million Americans face reproductive issues and infertility. Many turn to the nearly 500 reproductive specialty clinics across the United States. Insider's Guide to Egg Donation is the first book to give a comprehensive overview of the egg donation process for all types of families, from an insider's perspective.
Authors Wilson-Miller and Napoletano, egg donors themselves who work in the industry, discuss the ins and outs of what happens when you want to begin a family through egg donation. Chapters cover emotional, legal, and medical aspects of the process, how to choose a facility and donor, as well as advice for gay, lesbian, transgendered, single, and international recipients.
"When I went through this process as an intended parent back in 2000 there was no guide, no book, no support groups…If I were doing this all over again this would be a book I'd buy and read from cover to cover."—Marna Gatlin, Founder, Parents Via Egg Donation
Launched In 2007, Demos Health is committed to bridging the gap between consumers and the healthcare community.