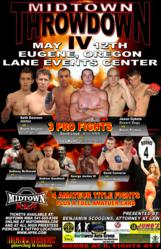 Eugene, Oregon (PRWEB) May 02, 2012
Professional Mixed Martial Arts competition is coming again to the Lane County Fairgrounds Events Center in Eugene, Oregon. Benjamin Scoggins, Midtown MMA, is bringing the octagon back on Saturday May 12th with three professional bouts and three amateur title fights in Midtown Throwdown IV.
The evenings Pro Main Event features middleweights Corey "Agnarr" Wyatt representing Midtown MMA in Springfield who faces off against David Lloyd of Alive MMA in a clash of 185lb warriors . Wyatt has a pro record of two wins and no losses and Lloyd has a pro record of one win and no losses. Highly skilled and highly motivated, both undefeated combatants promise to lay it all on the line for this battle virtually guaranteeing copious striking and brutal ground and pound.
The next professional match is a lightweight bout between Jason Gybels of Desert Dogs and Brent Primus of North West Martial Arts in Eugene brings it all. Both men are skilled Jiu-Jitsu practitioners, with Primus attaining the highest rank of black belt. Both men are also fearless on their feet and racked up impressive win records as amateurs. The pure athletic prowess of these warriors cannot be overstated. Gybels is currently 4-2 on the pro circuit and Primus is 1-0. They will meet in the cage at 155.
Seth Dawson of NWMA, Eugene and Brent Alvarez from Art of War, Eugene will also meet in the ring for the first time weighing in at 145. The debut fight for both combatants launches their pro careers. Both men have impressive credentials on the amateur circuit and bring new blood to professional mixed martial arts.
Also on the May 12th fight card are 3 amateur title fights. Fighting for the Midtown Throwdown belt in the heavyweight division will be Anthony, "the Joker" McDonald and challenger Darron O'Donnell. This match was scheduled to be a continuation of the Midtown Heavyweight Tourney. McDonald dominated his opponent in Midtown Throwdown 3, however, his scheduled opponent, Terrell "Big Baby" Bosen will not be available due to injury. Instead, McDonald will take on 6'9" "Goliath" Darron O'Donnell, who is the number one contender in the division. Lightweights Andrew Gundlach and Quinten Wyland are scheduled for five rounds for the vacant belt and finally in the bantamweight division title fight will pit "KidKryptonite" David Converse against Stephone Taylor.
The Midtown Throwdown IV fight card also features several undercard amateur fights. The Events Center offers cold beer and wine and hot meals to all spectators and plenty of parking at the Fairgrounds. Doors open at 6pm and fights start at 7pm. Tickets are available at MidtownMMA.com, the Midtown MMA gym, 2600 Main St. in Springfield and all High Priestess locations. 541-505-8388 for information.